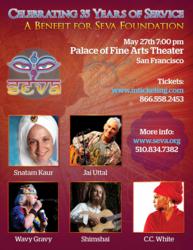 Seva Foundation's 35th Anniversary Kirtan Concert at the Palace of Fine Arts is not to be missed! These amazing musicians donating their time and talent is a testiment to the good work of the organization, curing blindness around the world.
San Francisco, CA (PRWEB) May 20, 2013
Join Seva Foundation in celebrating its 35th Anniversary with an all star Kirtan concert at the Palace of Fine Arts Theater in San Francisco, featuring: Snatam Kaur, Jai Uttal, C.C. White and Shimshai, with host Wavy Gravy. All proceeds will benefit Seva Foundation's sight restoration programs around the world.
Reserved seats are $40 & $55, VIP tickets are $150 and include a post-show reception with the artists and a front row seat at the show. Tickets are available through inticketing.com.
The name Seva (say-va) is a Sanskrit word meaning self-less service. This is the philosophy that the organization was founded upon and continues to guide its work today. The compassion that drives Seva starts with the realization that we are all connected as one global community.
Seva was founded in 1978 by a group of medical professionals, counterculture activists, musicians, and compassionate individuals, all dedicated to the alleviation of suffering in the world. Most notably among them is public health expert Dr. Larry Brilliant, spiritual leader Ram Dass and humanitarian activist Wavy Gravy.
Seva Foundation is mostly known for its work in curable blindness. In 35 years Seva has helped restore eyesight to nearly 3.5 million people worldwide. Seva has served 30 million people with much needed services, including vision exams, low cost or free eye glasses, antibiotics to treat infection, and other important eye care services.
Seva focuses on serving communities where poverty levels are high and access to eye care services is low or otherwise non-existent. Seva builds programs that communities can sustain, such as the Aravind Eye Hospital, one of their very first projects, which has since grown to become the largest eye care provider in the world.
For more information about the show and Seva Foundation, please visit the web site at http://www.seva.org.