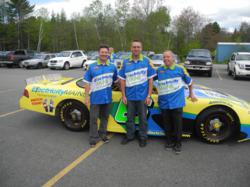 ...this is more than a financial transaction, this is a true partnership.
Auburn, Maine (PRWEB) May 19, 2013
Electricity Maine officially unveiled their Pro Series #6 car. Owned and driven by Maine racing veteran Chris Bowie, the Electricity Maine car will run a regular season at Beech Ridge in Scarborough (ME) on Saturday nights, attempt to qualify for the Oxford 250 in July and other Pro-All Star Series races in Maine.
According to Chris Bowie, the partnership is about more than just racing. "I had been looking for a sponsor that wanted more than just a financial transaction; this is a true partnership." The Electricity Maine car will also be available to help raise awareness of Electricity Maine's Power to Help partners. The Power to Help program was set up by Electricity Maine to support local non-profit organizations through direct donations as well as technical expertise and volunteers.
The Electricity Maine Pro Series 6 car will begin racing on June 1.
Headquartered in Auburn, Maine, Electricity Maine is licensed by the Maine Public Utilities Commission to sell electricity direct to homeowners and small businesses. Electricity Maine is not an aggregator or broker. Electricity Maine is licensed to sell supplier direct to consumers with no middle-man.
As part of the Provider Power family with ENH Power their mission is to strengthen communities by providing competitive electricity rates on the supply portion of their utility bills while partnering with, and providing resources to, non profit organizations that create positive change in Maine and New Hampshire.