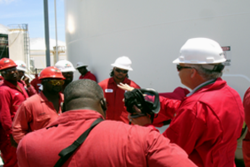 ...if an authorized outreach trainer needs to have any kind of exception considered, they have to send it to OSHA in writing
Richardson, TX (PRWEB) May 20, 2013
The Occupational Safety and Health Administration, OSHA, which oversees the OSHA 10 hour training and 30-hour training programs, has recently updated the Outreach Training Program requirements (information on outreach training can be found at http://www.osha-pros.com). These requirements are guidelines that authorized OSHA outreach trainers must follow when conducting and reporting OSHA outreach training.
"OSHA periodically updates requirements for all OSHA-authorized outreach trainers," observed William Mizel, CSP, President of OSHA Pros USA, LP, a national OSHA training company. "Those are the requirements that they need to follow when conducting on-site as well as online training."
Another key element of this update has to do with OSHA's exception policies. "Now if an authorized outreach trainer needs to have any kind of exception considered, they have to send it to OSHA in writing," continued Mr. Mizel. "Also it has to be submitted at least 60 days in advance of the scheduled training. Then OSHA will notify the instructor if they have granted an exception to the normal rules."
OSHA outreach training is available in both on-site and online versions, for a variety of industry segments including construction, maritime, disaster site, and general industry. 10-hour courses are designed for entry level workers, and 30-hour courses are intended for supervisors or senior safety personnel.
About OSHA Pros, LP
OSHA Pros, LP is a safety training company offering OSHA outreach training as well as safety consultation and a variety of workplace safety classes nationwide.
For additional information about this release, contact Jennifer Foley at 1-866-442-6742. For information on obtaining the OSHA 10-hour card or 30-hour card, visit http://www.osha-pros.com.