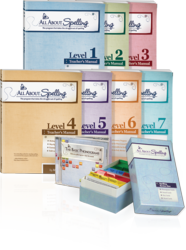 All About Spelling teaches students the way they learn naturally: through sight, sound, and touch.
Eagle River, Wisconsin (PRWEB) May 21, 2013
Sometimes older students will perform well in certain areas of spelling, but have significant difficulty in other areas. In order to become truly proficient spellers, students may need help to fill in troublesome gaps. All About Spelling is a mastery-based program that enables students to zip through previously learned concepts while focusing as much attention as necessary on any concepts with which he or she is unfamiliar.
All About Spelling teaches students the way they learn naturally: through sight, sound, and touch. Students use letter tiles, flashcards, word banks, customized spelling lists, dictation, and writing exercises throughout the program. Merry Marinello, homeschooling mom and customer care representative at All About Learning Press, offers these tips for teaching older students to spell:

Adjust the first few levels to your student's needs. Your student may say that the spelling words are "easy" at first, but if your student has not previously learned the concepts behind them, he or she will miss important information that is crucial for success in spelling. For example, your student might know how to spell cat, but might not know why it is spelled with a C instead of a K. This concept is necessary in order to apply it to words like 'emergency' and 'concentrate' later on.
Stress the importance of first steps. Even though the first levels may seem easy, remind your student that this doesn't mean that he or she should jump ahead to the fifth level. Consider other skills, such as swimming or horseback riding. The first few lessons may seem easy, but the foundation concepts taught early on are vital for success in higher levels.
Customize the lessons for each student. Individual students need different customizations depending on their prior spelling knowledge. This download includes ten suggestions for customizing All About Spelling for older students.
Teach a concept and have your student teach it back to you. If your student can teach a spelling concept back to you, it shows that he or she has mastered the concept and/or those words. If a student has to stop and think it through or seems challenged when trying to teach the concept, spend more time on that particular lesson.
Move as quickly as you can through the early levels, but slow down when necessary. During each lesson, keep an eye open for gaps or areas in which your student struggles. Some students zoom through the early levels in a short period of time, while others may need to take more time to master the concepts. Be flexible to your student's individual needs.
Created by author and curriculum developer Marie Rippel, the award-winning All About Spelling program is published by All About Learning Press, Inc., and comes with lifetime support and a 100 percent money-back guarantee.
For more information on All About Spelling, visit http://www.allaboutlearningpress.com/.