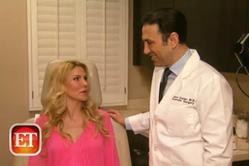 Los Angeles, CA (PRWEB) May 17, 2013
A May 13, 2013 report by CNN Health entitled "Getting Back at Your Ex -- By Getting Surgery" examines the typical motivation of post-divorce plastic surgery patients (go to: goo.gl/KcmrM). According to the article these patients typically fit into three categories. The largest category includes recent divorcees looking to freshen their look because they're now back on the market. The second group includes those who wanted plastic surgery before their divorce but never went through with it because their ex-spouse disapproved. The final group is comprised of divorcees that want plastic surgery to make their former spouse jealous.
"I can't say that I've polled my recently divorced patient to divine their intentions to determine which of the three categories they fit into," says Dr. Simon Ourian, Medical Director of Epione Beverly Hills. "I do agree with the idea that divorce is one of the most stressful life experiences and that divorcees should take some time following their separation before finalizing the decision to undergo any aesthetic procedures."
According to the report, "revenge plastic surgery" is becoming more common. One U.K. plastic surgery group found that 26% of its clientele were newly divorced women and another 11% were recently divorced men. Real Housewives of Beverly Hills star Brandi Glanville famously revealed that she had used her ex-husband's credit card to pay for a $12,000 vaginal rejuvenation procedure.
"Frankly, I think the term 'revenge plastic surgery' is overblown," says Dr. Ourian. "For the most part my patients, recent divorcees included, just want to look the best they can."
Dr. Ourian has been a pioneer in laser technology and non-invasive aesthetic procedures including Restylane, Juvéderm, Radiesse and Sculptra. These treatments are used for the correction or reversal of a variety of conditions such as acne, acne scars, skin discoloration, wrinkles, stretch marks, varicose veins, cellulite, and others. More information about plastic surgery can be found on Epione's website.