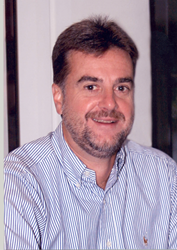 (PRWEB) May 20, 2013
John Vail, a 22 year PepsiCo digital media and marketing veteran, and most recently a consultant for many companies including PrizeLogic has joined the promotions company in a newly created position as CMO, effective May 1st.
Before joining PrizeLogic, Vail founded and built the Pepsil digital center of excellence starting from scratch in 1994 until he left the company in June of 2012. The tenure included many internal and industry awards and game changing partnerships in digital programs and promotions with Yahoo!, Apple iTunes, AOL, MTV, NFL, MLB, YouTube, Facebook, and Foursquare, among many. Vail developed a decade long Yahoo! Partnership that included the first CPG unique code program with the launch of PepsiStuff.com in 2000. Over 25 promotions followed as did the move of PepsiSmash from a TV show to an online on demand original video channel that ran from 2005 until 2010 at PepsiSmash on Yahoo! Music and included a Spanish version Pepsi Musica in addition.
Vail was a client of PrizeLogic having hired them as part the team executing the Pepsi Refresh Project, the highly acclaimed program that ran for two years that he oversaw end-to-end collaborating with an expansive team. Since then the work was expanded to include work for Mtn. Dew and Diet Pepsi amongst many projects. "John managed more promotions from the client side of the desk than anyone I am aware of, we are thrilled to have his perspective on our team," said PrizeLogic CEO Keith Simmons.
Vail who will report to Simmons, said "I am thrilled to be joining PrizeLogic at such an important point in the company's growth and expansion fueled by continued innovation, the current client roster is rich with many Fortune 100 brands and agency relationships. Switching teams is usually the other way around so this fits my mold of doing things uniquely. PrizeLogic has tremendous reputation and I am proud to be part of the management team."
Prior to Pepsi Vail was a VP at Ogilvy & Mather (now Mindshare) and graduated from Pace University with a B.A. in Marketing. Vail will be based in the NY area office.
About PrizeLogic:
PrizeLogic is a leading interactive promotion specialist that continues to define the promotions marketplace through innovation and cutting edge ideas regardless of the device consumers are using. PrizeLogic powers some of the largest and most secure promotions on the planet. Our clients include Subway, Disney, Pepsi and many other Fortune 100 brands. Co-headquartered in Southfield, Michigan and Scottsdale, Arizona since 2008, we also have offices in NY and Chicago. PL has been recognized in the Promo 100 agencies, Facebook Preferred Developers, and Inc 500 as a fastest growing private company and numerous marketing awards.
Find out more about PrizeLogic at http://www.PrizeLogic.com.