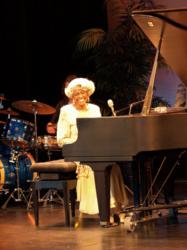 The Church [of Scientology] considers it an honor to sponsor this event and to do our part in providing opportunities to those children interested in the arts.
Clearwater, FL (PRWEB) May 20, 2013
On Saturday, June 15, the Church of Scientology will sponsor and host the "Sharing Our Blessings" fundraising event to further its support of educational programs. Guests will witness a musical performance by the great Lillette Jenkins-Wisner, a notable concert pianist and vocalist whose talents have taken her to Broadway and Hollywood. All proceeds will go to Lillette's Foundation of the Arts, which she established to foster the talents of performing arts students while also meeting their financial needs. The fundraiser will be held at the historic Fort Harrison (210 S. Fort Harrison Avenue) in downtown Clearwater at 5:30 PM.
Recognizing the benefits of a foundation that offers hope to aspiring young performers, the Church of Scientology jumped at the chance to host "Sharing Our Blessing." During the evening, Lillette will be accompanied by the harmonies of Au' Niece, a dynamic vocal duo comprised of Lillette's daughter, Michele Harris-Carter, and Lillette's granddaughter, Toni Stargell. During her decades-long career, Lillette has shared the spotlight with many veteran artists, and her musical prowess earned her the moniker Queen of the Keys by the great Nat King Cole. At 89 years old, she still performs classical, gospel, ragtime and jazz, uplifting audiences everywhere.
Lillette's Foundation of the Arts, a not-for-profit corporation, was her answer to dwindling arts programs throughout the country; the organization's main source of funding is through fundraisers and donations. The Church of Scientology, notable for its work in educational and humanitarian programs, believes that "Sharing Our Blessings" could bring a great impact to Wisner's organization. The Church feels passionately that children should have every opportunity to develop their talents, and looks forward to the event.
"The Church [of Scientology] considers it an honor to sponsor this event and to do our part in providing opportunities to those children interested in the arts," said Pat Harney, Public Affairs Director for the Church of Scientology. "We expect a large turnout at the event, and hope to secure sufficient funds for the Foundation [of the Arts] to continue to thrive."
The Church is dedicated to providing help to those who need it, as demonstrated by its involvement in many global social betterment and humanitarian campaigns, including:
●Drug education and rehabilitation
●Human rights
●Disaster relief
●Education
●Anti-violence
●Community improvement
The Church of Scientology is involved in a worldwide undertaking to educate mankind about the benefits of charitable endeavors. This fundraising event is one of many sponsored by the Church in an effort to boost humanitarian efforts in the Tampa Bay area. In 2012 alone, the Church helped to raise $30,000 for local organizations, and plans to surpass that number in 2013.
Tickets are $50 for general seating in advance, and $60 for VIP seating. Dinner will be served. To purchase tickets, please go to http://www.fame-prqueenfilms.info.
About the Church of Scientology:
The Scientology religion was founded by author and philosopher L. Ron Hubbard. The first Church of Scientology was formed in the United States in 1954, and has today expanded to more than 10,000 churches, missions and affiliated groups, with millions of members in 184 countries. Scientologists are optimistic about life and believe there is hope for a saner world and better civilization, and actively do all they can to achieve this. The Church of Scientology routinely engages in many humanitarian programs, including anti-drug campaigns, human rights campaigns and global education programs. It is a maxim of Scientology that a being is as valuable as one is able to help others. Scientology-sponsored charity programs often encourage those receiving the charity to make their own contribution in exchange, by personally helping others who are in need. Additionally, the Church was among the original supporters of the Freedom of Information Act, and supports the protection of public interest laws. To learn more, visit http://www.scientology.org.