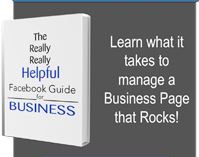 Some business owners are afraid of social media and some jump right it, but get frustrated because it's not working
Chico, CA (PRWEB) May 21, 2013
Half a Bubble Out, a small business marketing firm, is offering a download "The Really Really Helpful Facebook Guide for Business" now available on its website to help small business owners learn the basics of managing a business page on Facebook.
"Some business owners are afraid of social media and some business owners jump right in but get frustrated because it's not working," said Michael K. Redman, principal owner at Half a Bubble Out. "Most small business owners just don't understand how to use social media as part of their internet marketing strategy. We provide these offers as a way to show them we're here to help."
The "Really Really Helpful Facebook Guide for Business" offers quick tips, ideas and guidelines about how to communicate, interact, craft posts, and create promotional events on Facebook business pages. It includes simple step by step instructions for small business owners to implement a business page.
As a small business marketing firm, Half a Bubble Out is continuing to increase its emphasis on internet marketing. Its team of social media marketing consultants help manage and implement social media platforms for small businesses, as well as provide education about social media and how to use it to build relationships and increase brand recognition online.
For more information on social media marketing, contact Half a Bubble Out for a free consultation or call 1-800-716-4226.
About Half a Bubble Out
Half a Bubble Out is a 21st Century Marketing and Advertising Agency that helps small businesses increase profits by strategically telling their story in a creative and compelling way. Since 2002, Half a Bubble Out has been helping small businesses achieve their potential in a holistic and sustainable way, helping them serve their current customers and build business with new customers, while allowing people to thrive, contribute to community and achieve profitability. Half a Bubble Out serves its clients in the role of internet marketing consultant as well as traditional marketing consultant, and designs and implements just about every form of marketing or advertising collateral that companies need to be successful.