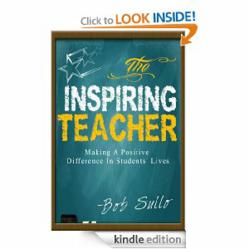 Livingston, NJ (PRWEB) May 21, 2013
An inspiring educator for nearly 40 years and senior faculty member of William Glasser International, Bob Sullo is the author of The Inspiring Teacher. This ebook is targeted towards experienced teachers, teachers in training, and parents. The Inspiring Teacher is available for free from May 21 to May 23.
The Inspiring Teacher invites educators to see teaching as more than just a job. It calls on them to inspire students through a variety of teaching strategies, fostering a classroom experience designed to make a positive difference in the academic and social lives of students.
The Inspiring Teacher is an equally valuable resource for parents. It provides tips on how to ensure that your kids internalize what you value and behave responsibly - even when no one is watching and offering a reward for good behavior.
A Top 1000 Amazon Reviewer and member of the Amazon Vine Voice Program recently reviewed The Inspiring Teacher and had this to offer:
"Author Bob Sullo offers his readers - predominantly teachers, but also parents and others concerned for children - a layman's guide to how to be an 'inspiring teacher.' You won't find heavy pedagogical or behavioral/psychological jargon, but you just might find some provocative ideas for how to not only improve teaching and educational outcomes, but how to simultaneously get kids to enjoy school and learning and have better relationships with teachers and other adults - a combination that many so-called experts seem to think is impossible."
Mr. Sullo and his publishing partner company, Funderstanding, hope that this 3-day promotional event will get The Inspiring Teacher to as many educators and parents as possible, assisting everyone who educates and interacts with children on a daily basis.
Download a free copy of it now and follow Funderstanding on Twitter for more promotional events like this.
About Funderstanding:
Funderstanding is a resource for teachers, parents, and students to stay up to date on education-related issues. The company focuses on innovative and progressive approaches to inspire learning in classrooms as well as homes. Funderstanding is also an ebook publishing partner company, focused on education-related content, which provides complete epublishing services as well as an expertise in ebook marketing and author branding.
Find more detailed information at:
http://www.funderstanding.com