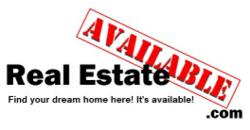 A knowledgeable real estate agent can make the difference between a great experience and a regretful one.
Austin TX (PRWEB) May 19, 2013
The focus of the site is first to provide a great experience for the person seeking a home in their state. They will find information about the state, areas of interest, and a map showing available homes in their city of interest. Secondly, the potential customer is given a choice of local real estate companies and agents that they can contact to help them in the search.
"Someone looking for their dream home can check out the market and see home pricing in the area of their choice," says Jonathan Wiggins, marketing VP at Real Estate Available. "They can find a home, but when they need local information and personal support, they should contact a real estate agent that knows the area well," he continues.
By providing an excellent search of homes for sale throughout the USA, the Real Estate Available website hope to become a leader in the highly competitive market of single family home sales. Any real estate company can apply for a free listing by contact REA at: customer(at)realestateavailable(dot)com. All listings will be screened to be sure that the end users are getting the most reputable real estate agents in their area.
About the Real Estate Available company:
The website RealEstateAvailable.com is owned by a leading property management software company that has been in the rental and sales industry for over 20 years. Their expertise is in real estate investing, property management, home sales, and home rentals.