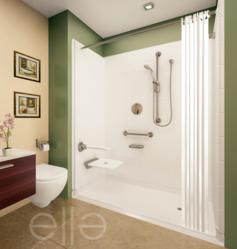 Ella Shower in a Box packages are available in a full range of sizes and use plywood and steel reinforced walls, which allow grab bars and seats to be installed anywhere.
Chicago, IL (PRWEB) May 31, 2013
Featured at the 2013 National Kitchen & Bath Show in New Orleans, Ella Walk in Baths continues to showcase product improvements and offer exceptional styles and value in walk in bathtubs and accessible showers with several finishes and sizes to choose from.
"Our goal is to bring the beauty of Italian design through our partnership with Ponte Giulio, the dependability of German engineering through our partnership with Hansgrohe and American craftsmanship to the meet the high-end demands of the modern homeowner, senior safety care, and sports rehabilitation marketplace" said Laimonis Magone, President of Ella Walk in Baths.
WHAT IS A "SHOWER IN A BOX"?
A Shower in a Box is just what it sounds like — an entire accessible shower kit including walls, shower base, and accessories in one box. Ideal for bathtub to shower renovations and remodels, the Shower in a Box from Ella Walk in Baths is manufactured using premium marine-grade gel coat fiberglass creating a smooth, beautiful, long lasting, anti-slip shower surface.
Ella Shower in a Box packages are available in a full range of sizes with walls that are reinforced with plywood and steel providing flexibility for seat and grab bar installation at needed height for any size bather. The integral self-locking aluminum Pin and Slot System allows the shower walls and the pre-leveled shower base to be conveniently installed from the front. Premium quality material, no need for drywall or extra studs for fixture support, 30 Year Limited Lifetime Warranty and ease of installation make Ella Roll in Barrier Free Showers the best option in the industry for your bathtub replacement or modification needs.
The versatile Shower in a Box from Ella's Bubbles is especially useful in condominiums where space is a premium and also in large-scale jobs such as hotels, apartments and sports facilities for the ease of installation and the significant time savings that can be realized.
About Ella's Bubbles, LLC
Ella's Bubbles, LLC (http://ellasbubbles.com) is a nationally distributed OEM manufacturer of acrylic walk in baths, gel coat fiberglass walk in bathtubs and accessible showers based in Chicago. Ella's Bubbles is committed to providing value added products that are manufactured with outstanding quality while providing consistency in servicing our customers with excellence.
Tory Ruohonen
1-800-480-6850
tory(at)ellasbubbles(dot)com