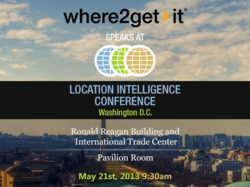 ANAHEIM, CA (PRWEB) May 20, 2013
Where 2 Get It CEO Manish Patel will be speaking at Location Intelligence Conference 2013 in Washington D.C. on May 21st, 2013 at 9:30am. Location Intelligence Conference brings together industry leaders who will focus on the solutions and trends of geospatial technology and IT.
Patel will be sharing tools and techniques for analyzing local marketing data - like Where 2 Get It's location-based Thematic Analytics, for example. Patel's presentation as well as live demos from the Where 2 Get It team will be supported by real-life case studies from some of Where 2 Get It's leading brands including, but not limited to: Denny's, Safeway, Disney, Ben & Jerry's, and L'Oreal. This represents a great opportunity for attendees to get industry leading insight on Where 2 Get It's field tested strategies for executing local marketing on a national scale!
Manish Patel founded Where 2 Get It in 1997 and 15 years later has established the company as an industry-leading provider of local marketing solutions empowering more than 500 national brands. Serving more than 500,000 brick-and-mortar locations, Where 2 Get It has channel strength that reaches millions of consumers around the world. Patel has lead Where 2 Get It in developing local marketing solutions that include scalable Local SEO, local advertising, mobile-local technologies, local-social marketing tools for brands, and more.
Attendees are encouraged to set up a meeting with Manish and the Where 2 Get It team which they can do by signing up here. For those that are unable to attend the conference in person, there is a virtual attendance registration option as well. For more information on Manish and Where 2 Get It's award-winning local digital marketing solutions, please visit the Where 2 Get It website and connect with W2GI on Facebook, Twitter, LinkedIn and Google+.
###
Where2GetIt.com
Facebook.com/Where2GetIt
Twitter.com/Where2GetIt
LinkedIn.com/Company/Where2GetIt