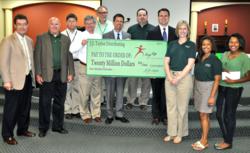 We were happy to join our support of the Step Up program with our commitment to sustainability through an interactive and educational event for these students.

-- Jay Martin
Brandon, FL (PRWEB) May 19, 2013
About 140 students at New Jerusalem Christian Academy (NJCA) in Brandon dressed in green on Friday and anxiously filed into the assembly hall to hear the results of the schools' recycling competition, which kicked off on Earth Day, April 22.
Before the results were revealed, the students, ranging from kindergarten through eighth grade, participated in a brief presentation featuring Speaker of the Florida House of Representatives, Will Weatherford, John Kirtley, the chairman of Step Up For Students, and representatives from J.J. Taylor Distributing, a donor to the scholarship program, which helps low-income Florida families send their children to the school of their choice.
Weatherford spoke to the students about the Step Up For Students Scholarship Program and why donors and supporters are critical to the program's success.
"The whole point of Step Up For Students, and the reason they go raise all this money and do all this work, is so that your parents can have a choice on where you go to school. And aren't you glad your parents have a choice? Isn't that neat?" he said.
Doris Aybar, a NJCA seventh-grade student and Step Up scholar, shared her experience attending the school and thanked J.J. Taylor for its support of Step Up For Students, the nonprofit that administers the Florida Tax Credit Scholarship Program and this year helped more than 50,000 Florida students attend the best school for their individual learning needs.
As a part of their partnership with Step Up For Students, J.J. Taylor sponsored the event to students at New Jerusalem, a school that participates with the scholarship program, to encourage sustainable habits like recycling. J.J. Taylor recently installed a new natural gas fueling station at its Tampa facility, converted 43 delivery vehicles to compressed natural gas, and representatives encouraged students to join in "going green."
"Our company is dedicated to improving the communities where we do business," said J.J. Taylor President, Jay Martin. "We were happy to join our support of the Step Up program with our commitment to sustainability through an interactive and educational event for these students."
J.J. Taylor joined Step Up For Students as a corporate partner in 2011 and has since redirected a total of $60 million of its Florida Excise Tax liability to fund scholarships for low-income students.
"We are truly honored to have the support of such a generous corporate partner in J.J. Taylor," said John Kirtley. "Thanks to J.J. Taylor's contributions, more than 13,000 Florida students were able to choose the school that best fits their learning needs, when they otherwise wouldn't have had that opportunity."
At the event, the first grade was named as the winner of the recycling competition. Three middle school students were also chosen as the winners of an extra-credit research assignment on natural gas vehicles, and won gift cards provided by J.J. Taylor.
New Jerusalem Christian Academy was one of the first schools to participate in the Step Up For Students Scholarship Program in 2002 and this school year serves more than 40 students who benefit from Step Up scholarships.
About J.J. Taylor Distributing Florida, Inc.
Headquartered in Jupiter, Florida, J.J. Taylor Distributing Florida, Inc. is a beverage distributor in Florida for many import and domestic malt beverage products, including Miller, Coors, Diageo/Guinness, Heineken USA, and a variety of craft brews such as Sam Adams, Sierra Nevada, Cigar City and Blue Moon. J.J. Taylor serves more than 10,000 retail customers in 17 Florida counties and has over 670 full-time employees across the state.
About Step Up For Students
Step Up For Students is the nonprofit organization responsible for administering the Florida Tax Credit Scholarship program. The scholarship program is available to students who qualify for a free or reduced-price lunch and provides tuition assistance to the private school of their parents' choice or transportation help to an out-of-district public school. Scholarships are funded by corporations that receive a dollar-for-dollar tax credit for their contributions. For more information, visit http://www.stepupforstudents.org.
###