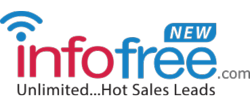 San Mateo, CA (PRWEB) May 17, 2013
Infofree.com, the home of unlimited sales leads, mailing lists, and email marketing for only $49.95 per month, is excited to announce the launch of its free customer relationship manager (CRM) at no extra cost.
Many businesses and small businesses need quality sales leads, as well as a system to manage them in to turn them into customers. Most CRM systems can cost anywhere from $50 to $100 per month, and some of them are much too complicated for less tech-savvy users.
Infofree.com already offers its users unlimited access to its database of 12 million emails leads, including 15 million businesses and 220 million consumers. Now, infofree.com is developing a simple CRM that is so easy to use, even a grandmother can do it. The product will be launched July 1st and will be included in the flat monthly charge of $49.95 per month.
"In this economy, small businesses need to be as productive as possible to stay ahead of their competitors. Our upcoming CRM for no additional charge will ensure that salespeople can manage their leads effectively and turn them into customers," says infofree.com Founder, Vin Gupta.
For a limited time, infofree.com is offering 50% off its service at only $24.95 per month for a full year of unlimited sales leads and mailing lists. To take advantage of this special offer, call 877-448-0101 for more information.
About Us: infofree.com™ is revolutionizing the sales lead and mailing list industry by providing unlimited search, select, and view of over 15 million business records, 225 million consumers, and hundreds of other specialty databases for the low, flat price of only $49.95 per month or $449 per year. Reach new homeowners, new movers, newlyweds, new businesses, and more!
The infofree.com content is compatible with the following platforms: Oracle CRM, Salesforce CRM, Microsoft CRM, Nutshell CRM, Goldmine CRM, Sage ACT! CRM, Highrise CRM, Zoho CRM, NetSuite CRM, SAP CRM, Constant Contact, RightNow Technologies, Responsys, Vertical Response, and Dun & Bradstreet.