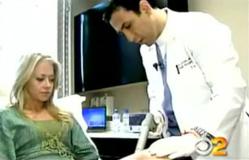 Los Angeles, California (PRWEB) May 19, 2013
According to a May 14th, 2013 Harper's Bazaar article entitled "The Best Body Firmers" many people are self-conscious about the appearance of certain areas of the body. Body firming becomes an option when diet and exercise fail to tone and tighten these areas. The report details a few treatments that may appeal to those looking to get the firmest body possible (article: goo.gl/tPiha).
"I think the article is an effective mini-overview," says Dr. Simon Ourian, Medical Director of Epione Beverly Hills. "I don't think it's appropriate, however, to say that any of the procedures are painless."
One procedure noted in the article to be effective in addressing arm flab is micro-liposuction, in which a doctor inserts a small hollow tube into the area and suctions fat in tiny amounts. The entire process takes up to 45 minutes per arm. The physician quoted in the report states that the procedure is painless and healing takes under one week. Positive results are seen immediately.
According to the piece, another new technique uses radio frequency technology to shrink fat cells. Since no cuts are made, there is no anesthesia needed. Side effects are minimal and include tender or red skin. Maximum results occur with a few treatments over a few months.
Liposonix, as reported in the article, is a non-invasive treatment that uses high-intensity ultrasound to permanently destroy fat cells. The procedure takes less than one hour and patients can reportedly drop an inch in only one session. There is no recovery time, but there is a potential for some swelling and bruising.
"I've had very good success with radio frequency/ultrasound devices," says Dr. Ourian. "Skin tightening is immediate and, it's hoped, collagen production is increased."
Dr. Ourian has been a pioneer in laser technology and non-invasive aesthetic procedures including Restylane, Juvéderm, Radiesse and Sculptra. These treatments are used for the correction or reversal of a variety of conditions such as acne, acne scars, skin discoloration, wrinkles, stretch marks, varicose veins, cellulite, and others. More information about body firming treatments can be found on Epione's website.