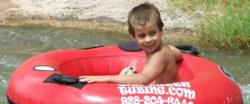 The launch of Tubing Madness and Ducky Madness on the Verde River is going to be huge! Join us for giveaways, grand prizes, food, drinks and more. It's summer – the Verde River's time to shine
Sedona, Arizona (PRWEB) May 18, 2013
Sedona Adventure Tours is excited to announce the kick-off event of the summer season for fun-filled adventures on the Verde River. Mark your calendars for Saturday, May 25, 2013. Tubing Madness and Ducky Madness 2013 officially begin at 8:00 a.m. The day of Verde River fun, complete with giveaways and prizes, lasts until 6:00 p.m. on Saturday on through Sunday and Monday of Memorial Day weekend.
"Sedona Adventure Tours and the Verde River Adventure Center are geared up for another epic summer on the Verde River. Enjoy wine tastings, kayaking, tubing and more – all under the sun and on Arizona's Verde River," exclaims Richard Lynch, owner of the Verde River Adventure Center. He adds, "The launch of Tubing Madness and Ducky Madness on the Verde River is going to be huge! Join us for giveaways, grand prizes, food, drinks and more. It's summer – the Verde River's time to shine!"
Shine indeed! Visitors and locals alike can enjoy unforgettable outdoor family fun and adventure in some of the most breathtaking scenery in the Verde River Valley and Sedona area. Options for excitement on this Memorial Day weekend include Tube Tracker tubing or a cruise down the river in a comfortable, stable and easy to paddle inflatable "Ducky Kayak". The Tube Tracker, new to Sedona Adventure Tours just last summer, is similar to a pool float and is long enough for adventurers to stretch out their legs as they kick back and gently paddle their way down the beautiful Verde River waterway.
Adding to the excitement, adventurers can enter drawings for great Sedona Adventure Tours giveaways and Grand Prizes that include kayaks, Tube Trackers and Verde River Trips. Everyone gets to play "Spin to Win" for fun prizes that include coolers, stickers, water bottles, hats and more! Even more fun; the Verde River Adventure Center is going to allow stoppers-by to be entered for a chance to jump into the whirlwind money box to collect cash, gift certificates and more. Stop by the Verde River Adventure Center on Saturday for giveaways and prizes while celebrating Tubing and Ducky Madness all weekend long (45 W Hollaman, Camp Verde, AZ).
The scenic Verde River is Arizona's only wild river system and Sedona Adventure Tours is the only company permitted to offer a variety of unique, outdoor Verde River experiences. For the perfect choice for family vacations, girlfriend getaways, romantic weekends and spiritual journeys, visit http://www.sedonaadventuretours.com and select a unique and exciting experience from the online guide.
The Verde River Adventure Center is located at 45 West Hollaman in Camp Verde, AZ. This take-off point for guided river trips also supplies adventurers with boating and adventure gear. Call 877.673.3661 or 928-204-6440 for: information, tour reservations, to book your tube or ducky kayak rental or more information on the enormous launch weekend of Tubing Madness and Ducky Madness 2013 for individuals and families alike.
About Sedona Adventure Tours: For unforgettable outdoor family friendly fun in the beautiful scenery of Sedona and the Verde River Valley, Sedona Adventure Tours offers exciting half-day and full-day Sedona wine tours, river adventures and more! Visit http://www.SedonaAdventureTours.com, or call 928-204-6440 today!