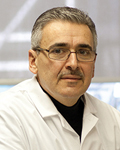 ECOG-ACRIN's broad research portfolio includes programs in Cancer Control and Outcomes, Therapeutic Studies, and Biomarker Sciences.
Atlanta, GA (PRWEB) May 17, 2013
Dr. Sparano is Professor of Medicine and Professor of Obstetrics, Gynecology, and Women's Health at the Albert Einstein College of Medicine and Associate Chairman of the Department of Oncology at the Montefiore Medical Center. He is also Associate Director for Clinical Research at the Einstein Cancer Center and leads the Einstein Breast Cancer Working Group, a multidisciplinary group of physicians and scientists focused on translational breast cancer research. He also serves as Vice Chair of the National Cancer Institute Breast Cancer Correlative Science Committee and Vice Chair of the AIDS Malignancy Consortium.
The Albert Einstein College of Medicine and Montefiore Medical Center have been members of ECOG since 1978.
Dr. Sparano is a medical oncologist whose research focuses on developmental therapeutic approaches in breast cancer, lymphoma, and HIV-associated cancers and the clinical application of genomic profiling in cancer management. He first joined ECOG in 1991 as a member of the Biological Response Modifier Committee and Breast Committee. Dr. Sparano has held the position of Co-Chair or Chair of the ECOG Breast Committee since 2002 and Associate Chair for Disease and Modality Research since 2001. He has chaired or co-chaired 16 therapeutic clinical trials for the Group, including the historic Trial Assigning IndividuaLized Options for Treatment (Rx) (or TAILORx)—an ongoing study in women with early stage breast cancer, whose results, when they become available, will help to identify those for whom adjuvant hormonal therapy alone is sufficient, thus potentially eliminating the empiric use of chemotherapy in tens of thousands of such women each year.
Dr. Sparano has coauthored approximately 180 scientific publications, and this work includes establishing a role for weekly paclitaxel as adjuvant therapy in breast cancer, infusional therapy in lymphoma, biologic therapy in human papillomavirus (HPV)-associated cancer, and defining tumor and host determinants of breast cancer recurrence. He recently established a breast cancer biospecimen banking program that will serve as a resource to study biospecimens from women who have survived early stage breast cancer and to identify whether dormant tumor cells and their interaction with the microenvironment puts patients at risk for a recurrence of the disease later in life. The Breast Cancer Late Relapse Biorepository is funded by the Breast Cancer Research Foundation and the Susan G. Komen for the Cure Foundation.
The appointment was announced today at the Group's semiannual scientific meeting in Atlanta.
About the ECOG-ACRIN Cancer Research Group
The ECOG-ACRIN Cancer Research Group is a member network that designs and conducts biomarker-driven cancer research involving adults who have or are at risk of developing cancer. It was formed in May 2012 by the merger of the Eastern Cooperative Oncology Group (ECOG) and the American College of Radiology Imaging Network (ACRIN), two highly respected National Cancer Institute (NCI)-sponsored cancer cooperative groups. The Group comprises nearly 650 member institutions, including community hospitals, academic medical centers, NCI-designated cancer centers, Community Cancer Oncology Programs (CCOPs) and Minority-based CCOPs, health systems, and physician practices, in the United States and around the world. Approximately 6000 individual physicians, translational scientists, and associated research professionals from the member institutions are involved in Group research, which is organized into three programs: Cancer Control and Outcomes, Therapeutic Studies and Biomarker Sciences.
For more information, visit http://www.ecog-acrin.org.