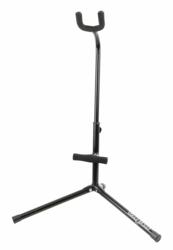 Petaluma, CA (PRWEB) May 20, 2013
The all-new Strukture ukulele and mandolin stand SUMS-BK is crafted from heavy duty steel for maximum strength and stability. The stand features a folding tripod base for easy storage and transport, a convenient height adjustable shaft, as well as padded neck cradles and back rests to provide safe and secure support. The suspended design delivers versatility, and allows for a wide variety of practical uses including both ukulele and mandolin, as well as childrens guitars, travel sized guitars, and even video game controllers. All SUMS-BK stands are completed with a gloss finish for durability and a sleek modern appearance.
Strukture SUMS-BK Ukulele and Mandolin Stand MSRP - $29.95
Strukture is a premier manufacturer of music accessories including cables, music stands, keyboard stands, guitar stands and parts. Strukture is dedicated to designing products that fulfill the needs of all musicians, from students to professional touring artists.
For more information, please visit us online at http://www.strukturemusic.com.