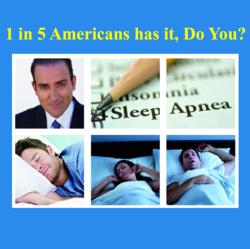 Our goal is to increase the awareness of the potentially devastating effects of untreated sleep apnea and provide individuals with immediate and simple solutions
Los Angeles, CA (PRWEB) May 28, 2013
Launching the I Am Sleep Program as part of his Sleep Better campaign, Dr. Avi Ishaaya has announced, "Our goal is to increase the awareness of the potentially devastating effects of untreated sleep apnea and provide individuals with immediate and simple solutions." During the entire month of June, the public is invited to visit the Dr. Avi Ishaaya Center to learn more about the I Am Sleep program and get a free sleep apnea screening test. Information will also be available to the public about a host of services offered at the Center to enable patients to be able to sleep, breath and be healthier. Appointments for the free sleep apnea screening are encouraged but not required. The center is located at 5901 W. Olympic Blvd., Suite 200 in Los Angeles across Olympia Medical Center with a convenient parking structure on S. Genesee Ave.
Sleep Apnea is a disorder that causes people to stop breathing in their sleep. During an apnea episode, a person stops breathing causing oxygen levels in the blood to drop considerably, which triggers the brain to awaken the body from sleep. Apneas can last as long as two minutes and as frequently as over 100 times per hour. Consequently, this puts stress on the heart and interrupts the sleep cycle. This disorder affects children and adults, but it is more prevalent in men and post-menopausal women. If patients are untreated, the short-term and long-term effects may include heart disease, stroke, high blood pressure, arrhythmias, diabetes, impotence, depression, cancer and more.
It is believed that 85 percent of those affected by obstructive sleep apnea are undiagnosed and in-need of treatment. Steps must be taken in order to sustain a healthy lifestyle and ensure effective treatment. In the words of Dr. William Dement, a pioneer of sleep medicine, "you're not healthy, unless your sleep is healthy". With the I Am Sleep Program, patients are able to get tested and treated for sleep apnea from the comfort of their homes using state-of-the-art devices.
For additional information on Dr. Avi Ishaaya's I Am Sleep program, visit http://www.iamsleep.com or to schedule an appointment at the Dr. Avi Ishaaya Center, please call 855-426-7533 or 323 556-7300 or visit us at http://www.draviishaayacenters.com.
About Dr. Avi Ishaaya:
Dr. Avi Ishaaya is a quadruple-boarded physician practicing in Los Angeles. He is board-certified in Sleep, Pulmonary, Internal Medicine, and Geriatrics Medicine. He received his Bachelor's Degree from UCLA with honors at age 19 and graduated Medical School by age 23. In addition to his private practice, Dr. Avi is an Assistant Clinical Professor of Medicine at the UCLA School of Medicine. He has been featured on FOX News, the Dennis Prager Show, KTLA, and other television and radio programs and is a national speaker on sleep and pulmonary issues. He is the author of Dr. Avi Ishaaya's Guide to Obstructive Sleep Apnea (digital book).
Dr. Avi Ishaaya established the I Am Sleep Program to provide comprehensive, convenient, and affordable services to address the emerging sleep apnea epidemic, which include screening, home sleep testing, treatment, compliance management, and education. Additionally, Dr. Avi Ishaaya operates a fully accredited sleep lab in Southern California.
About Avi Ishaaya Centers:
Serving the Los Angeles area, the Dr. Avi Ishaaya Centers, combine state-of-the-art technology with an unwavering dedication to their patients. Dr. Ishaaya's vision is to educate his patients and provide comprehensive, superior medical evaluation services and a wide range of testing and screening procedures under one roof, thus saving time and money to his patients without compromising the quality of care.