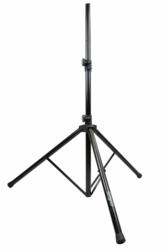 Petaluma, CA (PRWEB) May 28, 2013
Strukture Gear now offers an expanded product offering, including new speaker stand SSS1-BK, sold individually, as well as in a pack of two (item SSS-PK). Strukture speaker stands are designed using heavy duty steel for optimal strength and stability, supporting up to 100 lbs. each. SSS1-BK stands feature a single braced folding tripod base for easy transport and storage, and a sturdy center shaft. Non-slip rubber feet provide added traction, and steel pins lock the adjustable height level for secure use. Strukture speaker stands are completed with a gloss finish for durability and a sleek, modern appearance.
Strukture Steel Speaker Stand SSS1-BK
MSRP - $69.95
Strukture Steel Speaker Stands Pack of 2 SSS-PK
MSRP - $129.95
Strukture is a premier manufacturer of music accessories including cables, music stands, keyboard stands, guitar stands and parts. Strukture is dedicated to designing products that fulfill the needs of all musicians, from students to professional touring artists.
For more information, please visit us online at http://www.strukturemusic.com.