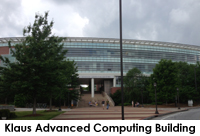 Chambersburg, PA (PRWEB) May 21, 2013
Door prizes totaling $900 were distributed to randomly-selected attendees to the 7th Annual Atlanta Asterisk Users Group Voice over IP (VoIP) Conference. The conference was held Saturday May 11, 2013 at the Klaus Advanced Computing Building on Georgia Tech's Atlanta campus. Door prizes were donated by Vitelity Communications and VoIP Supply, as well as by prize coordinator Dennis Little.
Vitelity Communications generously donated $15 of free SIP-based VoIP calling to all conference attendees, along with a "Fax Enable" gateway and two months of free service ($225 value) to accompany the device. Fax Enable from Vitelity is a purpose-built fax gateway that allows customers to use an analog fax machine with Vitelity's TDM-based vFax network (not FoIP / T.38). Fax Enable provides the convenience of traditional fax machines but with enhanced features like: easy plug-n-play setup; fax queuing; robust web-based portal to send & receive fax documents; fax from desktop client, Outlook and fax to email capability. Vitelity is a wholesale telephony solutions provider with the largest DID footprint in North America. They provide global SIP Trunks, virtual fax solutions, VoIP SMS solutions, and Asterisk colocation and hosting in a VoIP-optimized data center. Vitelity specialize in Asterisk and have DCAP engineers onsite to provide unmatched service and support.
VoIP Supply graciously donated a new Digium D40 model Voice over IP business telephone, valued at $144. Digium D40 IP phones include HD Voice, plug-and-play deployment, 2 line keys and a price to fit nearly any budget; Digium also offers a 4-line D50 model and 6-line D70 model, which integrates an LCD sidecar capable of holding 100 speed dial entries. Digium phones support plug-n-play provisioning, reducing the amount of time required to roll out telephones to new users in the enterprise. VoIP Supply has been delivering everything needed for VoIP to developers, resellers, integrators and hobbyists utilizing Asterisk and other open source platforms since 2002. VoIP Supply is a Platinum Digium Partner and has been named their top partner in North America the last two years.
Dennis Little donated two Obihai OBi110 model analog telephone adapters (ATA), valued at $55 each, to a pair of lucky winners. The OBi110 has one analog telephone port, one analog line port, and allows connection of up to two internet-based Voice over IP (VoIP) providers to a standard home telephone. By combining the value of VoIP-based long-distance with free local calls on your local telephone line, the OBi110 is able to provide significant savings. Obihai devices are controlled via a secure, web-based portal that allows changes to be pushed to remote devices, without actually touching the units or being in proximity to them. Mr. Little has proven expertise engineering VoIP-based communication solutions for enterprise and SMBs and Enterprise in lodging, medical and high-tech companies; he regularly presents tutorials and case studies to the telephony community worldwide.
The Atlanta Asterisk Users Group VoIP Conference was founded by Kris Sheets and this year's event was emceed by coordinator Doug Kilgore. The gathering is a casual, open opportunity for Asterisk VoIP beginners and veterans to meet and share their goals, knowledge, and skills. The annual conference brings together leading Asterisk and VoIP users, developers, enthusiasts, service providers and manufacturers who share their accomplishments and goals for the future. This year's presenters included: Digium's Sean Pimental and Billy Chia; Kevin John and Jay Steinworth from GM Voices; Dennis Little from tapestry technologies / KeyCruncher.com; the Voice of Asterisk, Allison Smith; Ben Klang from Mojo Lingo; and pfSense's Chris Buechler .
For more information about Vitelity, please go to http://www.Vitelity.com or call 1-888-898-4835.
For more information about VoIP Supply, please go to http://www.VoIPSupply.com or call 800.398.8647.