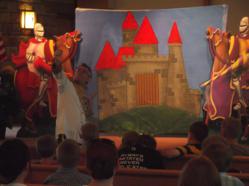 South Whitley, IN (PRWEB) May 18, 2013
A summer staple for many American children is attending Vacation Bible School (VBS). VBS usually involves music, crafts, games, snacks, Bible stories and an exciting theme that keeps children coming back each day for more! Some churches literally transform their sanctuaries and hallways into great representations of their VBS theme. New themes for Vacation Bible School are fun for all ages.
National internet party supplier, Shindigz, announces the most popular themes for this summer, according to 2013 orders from churches.
Hay Day Farm is the 3rd most popular theme this year.
Christians believe that God cares about all living creatures, even farm animals! Have your VBS kids spend a week at Hay Day Farm where they can learn about how God loves even the cows and pigs.
Number 2 is the Western Roundup VBS Theme.
Even the cowboys of the Wild West read their Bibles. This summer churches will transform into a place for cowboys and cowgirls with a Western Roundup VBS theme. Along with the Western Ranch kit, which includes a stable, fence, and cornstalks, many churches will also bring in some real bales of hay to make things seem more realistic.
The Kingdom Rock Medieval Castle continues to be the number one theme for Vacation Bible School again this year.
The Bible says Christians are to put on the Armor of God, so a Medieval Castle theme is perfect for VBS, On one of the first days of VBS, kids make their own shields in the arts & crafts portion of the day and then hang the shields up in the hallways for a personalized decoration that kids and parents will love to look at, especially against a cobblestone background.
VBS themes should make kids feel like they're someplace special. Even a holy place, like a church, can become something totally different for the week of Vacation Bible School.
About Shindigz:
Shindigz "makes life more fun" for 23 million events through the manufacture and sale of personalized party supplies. It ships products from its facilities in South Whitley, Indiana across the United States and around the world to 59 countries. With more than 36,000 products, it's been providing customers with complete party solutions since 1926. For Cinco de Mayo decorations and favors, visit Shindigz.com.