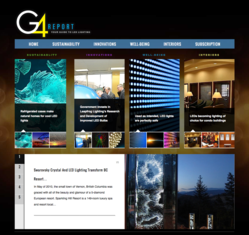 Condo managers are learning that LED lighting in common areas of buildings can bring huge cost savings on energy bills
Toronto, Canada (PRWEB) May 17, 2013
As reported in the G4Report, Your Guide to LED Lighting, it was five years ago that management at Toronto's landmark Palace Pier condominiums made the decision to switch all 1,300 public-area lights in the 47-storey building to LEDs. That simple move was enough to save up to 87 per cent of the energy consumed for lighting in the high-end condo complex. Even more impressive are the reductions in greenhouse gas emissions resulting from the switch. And the MR16 LED bulbs they installed have a lifespan of roughly 45,000 hours—about five years. Imagine the satisfaction a condo manager must feel knowing that a decision made five years back is still paying off today! Read more about how LED lighting saves energy costs, reduces maintenance, gives better light quality, increases control over where light shines and helps save the environment. More>>
Other top stories at the G4Report, Your Guide to LED Lighting
LED-lit chocolate melts in your mouth, not in the display case
Anyone who has walked into any chocolate shop around the world knows how intoxicating the experience can be. Dark and creamy endorphin-producing candies glisten like jewels in their brilliantly lit display cases, inviting you to put aside all restraint and dive in. But these seductive showcases, designed to entice customers into sampling the decadent product, are home to a chocolate's worst enemy—heat.
Just how much chocolate-destroying heat is produced by traditional incandescent lighting is dramatically shown in a video of two chocolate bunnies, both lit from above in a display case. One melts before our eyes under the onslaught of high-wattage incandescent lighting, while the other sits coolly intact, brightly lit by an LED down light. Read the whole story here>>
What kind of lighting is best to show off the crown jewels of Denmark?
If you are in the business of showing off priceless artifacts and works of art, like the crown jewels of Denmark, for example, you want the best possible lighting. Not only do you want visitors to have an enjoyable and memorable experience, but you want to be sure that the objects themselves are safe. Safe from thieving hands, yes, but also safe from something more insidious: light.
Bad lighting in a museum or gallery can not only ruin the visitor's experience, it can ruin the displays. Priceless artifacts and paintings can be irreparably damaged by putting them under the wrong kind of lighting.
Read about how some museums have found the perfect solution to their lighting needs in LED lighting. More>>
About The G4Report
The G4Report is your comprehensive and entertaining source for news and information about LED lighting in all its applications, with an emphasis on commercial applications. Anywhere that LED lighting is saving businesses money and improving their environmental performance, we're there to report it, under one of the following categories:

Innovation: stories about the latest LED R&D and what you can expect to see in the future: would you believe LiFi?
Sustainability: learn how LED lighting helps reduce greenhouse emissions and landfill.
Well-being: from hospitals to NASA to light therapy, LED lighting is having a profound effect on the way we provide health care.
Interiors: innovative new LED lighting products are changing the way we approach interior design, making it possible to do things we never imagined before. We cover them all.
The G4Report is a publication of Zines Online, a service of Persona Corp.