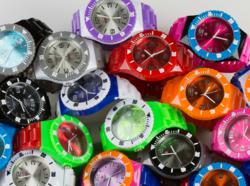 iKen watches give you the opportunity to express your opinion through what you wear.
New York, NY (PRWEB) May 19, 2013
According to Paru Radia, the British expat and entrepreneur behind The iKen Group Inc., iKen watches do more than just tell the time; they make a statement. "They give you the opportunity to express your opinion through what you wear," she proclaims. The product's name, iKen, actually means 'opinion' in Japanese, a fact that led Radia to choose the word to represent her support of freedom of expression. "Each iKen Watch tells a story. It's a story about you—who you are, what you think, how you feel," she adds.
Assembled from five interchangeable components including a face, case, bezel, buckle strap and sizing strap, consumers can create a customized iKen Watch in 250,000 unique color combinations. "You can make a watch in the color of your favorite sports team," says Radia, "or use your school colors, the colors in your sneakers, the colors of your favorite superhero, and so much more!" In addition to delivering dazzling style, the company is donating $1.00 from each orange watch face sold to PACER's National Bullying Prevention Center (PACER.org/bullying).
Assembling an iKen Watch takes a mere 15 seconds and does not require any tools. The components clip and slide together easily so even children can build their own. Sold separately, each component is available in 12 vibrant colors, enabling a wearer to change the watch's look whenever he or she wants. Already a hit with guys and gals from 13 to 50 years old, iKen Watches are available at select retail stores across the U.S. and on http://www.ikenwatches.com.
"I hope you love my products as much as I loved creating them," says Radia. "I invite you to have fun expressing your personal look and style. Build it. Wear it. Change it. Everybody has an opinion and an iKen Watch allows you to express yours."
About The iKen Group Inc.
Pronounced 'ee-ken,' 'iKen' is a Japanese term for the word 'opinion.' It's now the name of America's most interchangeable watch as well. Based in New York City, The iKen Group Inc. is led by Paru Radia, a creative entrepreneur born and raised in London, England. She launched iKen Watches in April 2013, a new product line founded on freedom of expression. Purchase these colorful timepieces, each featuring five customizable components, at retail establishments and http://www.ikenwatches.com.
For additional information, contact Paru Radia, President, The iKen Group Inc., 888-346-2367 or (Paru(at)ikenwatches(dot)com).