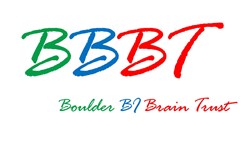 "The sheer breadth and depth of experience brought together by the BBBT makes this one of the most valuable interactions of my year."

Donald Farmer, QlikTech
Boulder, CO (PRWEB) May 21, 2013
Whether you call it Data Discovery, Self-Service Business Intelligence, or Business Discovery, it is clear that user-driven technologies are transforming the way data is analyzed and managed within organizations. QlikView has been leading this change for many years.
During this half-day event, Donald Farmer, Vice President of Product Management, discussed Business Discovery technologies, important developments in metadata intelligence and administration, and a look at the future, where everyone is mobile, data is pervasive, and there is no such thing as an end-user.
Returning to the BBBT, after more than a year since his first event, Mr. Farmer was pleased. "As always, the opportunity to share our thinking about QlikView with the Boulder BI Brain Trust was challenging and stimulating. The sheer breadth and depth of experience brought together by the BBBT makes this one of the most valuable interactions of my year."
On May 6, Mr. Farmer discussed QlikTech's recent acquisition, NComVA, and the highlights of this event during a podcast hosted by BBBT Founder, Claudia Imhoff.
About BBBT: The Boulder Business Intelligence (BI) Brain Trust has served the BI industry since 2006. It is a consortium of approximately 80 industry analysts and experts from around the world. BBBT events are 1/2 day BI vendor presentations, similar to analyst briefings, streamed live as webinars exclusively to BBBT members. It's a reciprocal arrangement, the members receive the latest information on current and planned BI tools and technologies, and the vendors get valuable feedback on their offerings, marketing, and messaging.
About QlikTech: QlikTech (NASDAQ: QLIK) is a leader in Business Discovery—user-driven Business Intelligence (BI). Its QlikView Business Discovery solution bridges the gap between traditional BI solutions and inadequate spreadsheet applications. The in-memory associative search technology QlikTech pioneered created the self-service BI category, allowing users to explore information freely rather than being confined to a predefined path of questions. Appropriate from SMB to the largest global enterprise, QlikView's self-service analysis can be deployed with data governance in days or weeks. The QlikView Business Discovery platform's app-driven model works with existing BI solutions, offering an immersive mobile and social, collaborative experience. Headquartered in Radnor, Pennsylvania, QlikTech has offices around the world serving approximately 28,000 customers in over 100 countries.