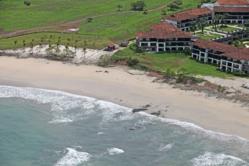 ... we ultimately determined that retaining control and reinvesting in the property was the best course of action
KANSAS CITY, Mo. (PRWEB) May 17, 2013
Agroganadera Pinilla, S.A., the owner of Hacienda Pinilla Beach Resort and Residential Community in Guanacaste, Costa Rica, announced today the appointment of Bree McClure Pattillo as its new President.
The Board of Agroganadera Pinilla, S.A. has appointed Bree McClure Pattillo to succeed H.G. ("Pat") Pattillo as the new president of the company. Ms. Pattillo brings nearly two decades of experience to the project, as well as a shared passion passed to her from her grandfather and a lifetime spent on the property and with the people that call Hacienda Pinilla home. Ms. Pattillo is a director and officer of Pattillo Construction Corporation and several real estate holding companies in the United States, and received an MBA from the Citadel.
Last August, the owner of Hacienda Pinilla initiated a comprehensive review of succession planning options for the project in order to ensure a continuation of founder H.G. ("Pat") Pattillo's vision and to ensure that the work of the charitable foundations he founded in Guanacaste continued over the long term.
Discussions with interested investors and management companies continued through early May. After careful consideration of all offers and options, Agroganadera determined that retention of ownership control and an aggressive reinvestment in the project, along with improvements to resort operations, would result in the optimal outcomes for current ownership, property owners, partners, the foundations and staff.
"I am excited about stepping into the role as steward of Hacienda Pinilla and its affiliated foundations," said Ms. Pattillo. "While we were presented with a number of opportunities to sell all or portions of the property, we ultimately determined that retaining control and reinvesting in the property was the best course of action. We are also far along in negotiations for sale of key development parcels within the project, and the selection of resort management and sales and marketing companies. We anticipate making further announcements shortly. We have the flexibility and resources to take a course of action that reflects our long term commitment to the project.
"My initial and primary focus will be on improving resort operations, marketing exposure and property sales within the project with new and increased investments in local and global marketing, sales team management and training as well as staffing," Ms. Pattillo continued. "The goal of these efforts is singular … a full and uncompromising restoration of momentum to the property and realization of the comprehensive vision of Hacienda Pinilla."
About Guanacaste Ventures U.S., Inc., Fundación Progreso Guanacaste and Hacienda Pinilla
Guanacaste Ventures U.S., Inc., is a private non-profit organization dedicated to improving education, health and housing in the Americas. In cooperation with its sister foundation in Costa Rica, Fundación Progreso Guanacaste, Guanacaste Ventures U.S., Inc., has provided scholarships to Costa Rican students from the region of Guanacaste for use in attending U.S. colleges and universities. The foundations were established in 2005 by Mr. H.G. ("Pat") Pattillo, the majority shareholder of Agroganadera Pinilla, S.A. A portion of the profits as well as contributions from property owners and ownership of Hacienda Pinilla Beach Resort and Residential Community are donated to the foundations to improve the lives and offer educational opportunities of the citizens of the Guanacaste region of Costa Rica. The foundations have used these funds to build and renovate numerous schools and houses, and to fund educational and healthcare initiatives, as well as provide scholarships, every year since its inception. Hacienda Pinilla is a 4,500 acre master planned community in Guanacaste, Costa Rica.