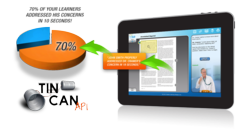 CLD continues to aggressively embrace any new standards, like Tin Can API, that give trainers better and more actionable insight into their learners' behavior
Belmont, MA (PRWEB) May 21, 2013
Custom Learning Designs, Inc.(CLD) unveils the first complete tracking to reporting eLearning solution using Tin Can API combined with its own proprietary Excelerometer report and dashboard tool. CLD is a leading developer of training content and solutions for pharmaceutical, biotech, and medical device companies worldwide.
Tin Can API is a cost-effective learning experience tracking standard that helps learners and trainers more accurately measure the Return on Education (ROE) of different learning mediums. Tin Can API's tracking statements capture both online and hands-on learning activities. Hands-on activities include live workshops, POAs, and even interactions with traditional print pieces. A Learning Record Store (LRS) is the central repository for these activities, providing a complete footprint of each learner's efforts.
"Integrating Tin Can into our solutions is just the beginning," said Tom Amari, Director of Learning Technologies at CLD. "The exciting part for us and our clients is the opportunity to combine our vast training experience and tracking statements to help our clients to identify learning exceptions as well as rules." Tom sees these learning exceptions as a data gold mine for trainers. "While knowing that your learners answered 20 Knowledge Check questions correctly is helpful, knowing that 85% answered question number 10 wrong is truly actionable." This type of exception flagging better focuses trainers' and learners' time on addressing knowledge gaps, ultimately leading to better learning outcomes or ROE.
An LRS filled with tracking statements has no value. CLD's development team understood this from the onset of the integration. To offer real turnkey Tin Can API enabled solutions, the inclusion of a shareable and ready to use report and dashboard tool would need to be a core feature. From that idea, Excelerometer was born. Excelerometer allows training managers instant access to pre-set or custom reports and dashboards that organize and visually represent Tin Can API tracking statements making them more actionable.
"CLD continues to aggressively embrace any new standards, like Tin Can API, that give trainers better and more actionable insight into their learners' behavior," said Donna Murphy Kilcoyne, CEO at CLD. "Our in-house programming team's continued research and investment in forward-thinking technologies ensures that CLD will offer best-in-class training solutions to the life sciences industry."
CLD will demo its Tin Can API enabled solutions and the Excelerometer report and dashboard tool at booth 343 during the Society of Pharmaceutical and Biotech Trainers (SPBT) 44th Annual Conference in Orlando from June 10 to12. Learn more about CLD and Tin Can API at cldinc.com or tincanapi.com/adopters.
About CLD
For over 30 years, CLD has provided customized training solutions to leading pharmaceutical, biotech and medical device companies. By focusing on the right combination of learning, creativity, and technology, the company is uniquely positioned to deliver training programs that drive sales. CLD's in-house staff of medical writers, content leads, instructional designers, medical directors, project managers and editors has over a hundred years of combined experience developing accurate, award-winning life sciences content. The CLD team has completed 2,400+ projects and 12,000 deliverables since inception.
About Tin Can API
The Tin Can API is an evolution of SCORM, a previous standard managed by ADL. Tin Can allows experiences of all kinds to be tracked using statements of a simple form (e.g., "I did this") that are then stored in a well-specified learning record store (LRS). Records of these learning activities are no longer confined to a single learning management system (LMS). Reporting systems can be granted access to all of the statements and can report against any combination of actors, verbs, and objects that they choose. Learn more about Tin Can API at tincanapi.com.