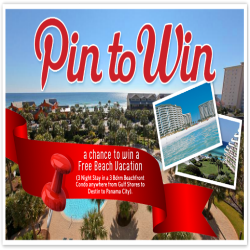 Our goal is to make the vacation planning process easy and fun. Pinterest is one more way we can do that for our vacation shoppers.
Destin, FL (PRWEB) May 21, 2013
BeachGuide.com, the Gulf Coast online guide for finding vacation rentals, dining options and fun things to do at the beach, launched a Pin To Win Contest for their Facebook and Pinterest followers. The grand prize, worth around $1000, is a three-night stay in a three-bedroom condo this fall, winter or spring. The contest will run through the summer. Followers simply browse through gorgeous Gulf Coast beachfront condos, hotels and beach homes, then pick three images to pin to their personal boards. After entering, contestants have the option of posting a link to the contest on their Facebook page to earn additional bonus entries when their Facebook friends also enter the contest. The winner will be randomly drawn on August 15, 2013.
"Pinterest has become increasingly popular with our website visitors," says Renee Taliaferro, marketing director at BeachGuide.com. "Our goal is to make the vacation planning process easy and fun. Pinterest is one more way we can do that for our vacation shoppers. We have created beautiful Pinterest boards for most of our beach destinations along the Gulf Coast, including our most popular destinations such as Destin, FL, Gulf Shores, AL and Panama City Beach, FL. We also have boards organized for people looking for pet-friendly vacation rentals, on-site activities for kids, luxurious resorts, affordable escapes, tennis and golf resorts, beach wedding venues — everything we can think of to help vacationers plan their dream vacation."
According to Taliaferro, one thing that sets BeachGuide.com apart from other vacation rental sites is that the site includes information on dining, fishing, attractions, recreation and current events in addition to vacation rentals. "You can plan your whole vacation on our website. And, since we include all areas along the Gulf Coast, you can easily find events, concerts, attractions or dining options in nearby beach areas, often a short drive from where you are staying. We see people using Pinterest to plan their whole vacations from our website — pinning images onto boards such as 'Vacation Ideas,' 'The Beach' or 'Someday.' Other people use Pinterest to document their travels onto boards such as 'Been There Done That' or 'Favorite Places.'"
BeachGuide.com is also active on Facebook and Twitter, offers a free BeachGuide iPhone App with interactive driving directions, and publishes Resort Guide of the Gulf Coast and Beach Guide magazines, which are distributed in grocery stores and bookstores throughout the Southeast.