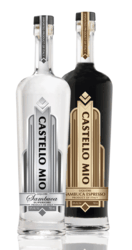 New York, NY (PRWEB) May 20, 2013
Castle Brands Inc. (NYSE MKT: ROX), a developer and international marketer of premium and super-premium branded spirits, today announced that Castello Mio, a super premium Sambuca, is available in the US for the first time.
Castello Mio Sambuca is made by a family company with a tradition of crafting fine liqueurs in the Veneto region of Italy since the 1800's. Available in the "classico" style as well as espresso, each bottle is packaged in an elegant, tall glass decanter with a built-in pourer that adds an eye-catching component to the bar.
But why just look at it?
The classic Castello Mio Sambuca Superiore is a unique combination of all the beloved, traditional sambuca flavors with a secret blend of herbs and spices, resulting in an exceptionally smooth liqueur. The combination of its delicate balance and long finish make it an excellent spirit to be enjoyed neat, and also as a versatile cocktail ingredient.
One of the great traditions of sipping sambuca is to add three coffee beans to it, allowing the natural coffee flavors and aromas to lightly infuse the glass. Legend has it that this will also bring you good luck! Castello Mio Sambuca Espresso takes that tradition one step further - with an infusion of real Italian deep roast coffee beans added to the classic sambuca. The result is a unique, exciting digestif with a kick!
Castello Mio Sambuca Superiore and Sambuca Espresso are high end liqueurs with stunning visual appeal. Beloved in their native Italy, they are now a sophisticated import that adds value to any liqueur collection.
Castello Mio Sambuca Superiore and Sambuca Espresso are imported exclusively by Castle Brands.
About Castle Brands Inc.
Castle Brands is a developer and international marketer of premium beverage alcohol brands, including: Gosling's Rum®, Jefferson's Bourbon®, Jefferson's Reserve® Bourbon, Jefferson's Presidential Select™ and Jefferson's Straight Rye Whiskey, Boru® Vodka, Castello Mio™ Sambuca, Pallini® Limoncello, Raspicello and Peachcello, Knappogue Castle Whiskey®, Clontarf® Irish Whiskey, Celtic Honey® Liqueur, Brady's® Irish Cream, Travis Hasse's Original® Liqueurs, Tierras™ Tequila and Gozio™ Amaretto Liqueur. Additional information concerning Castle Brands is available on the company's website, http://www.castlebrandsinc.com.
For more information on Castle Brands or Castello Mio or photography, contact:
Donna Hibbert
Marketing and Public Relations
Castle Brands Inc.
122 E 42nd St., Suite 4700
New York, NY 10168
Phone: 800-882-8140