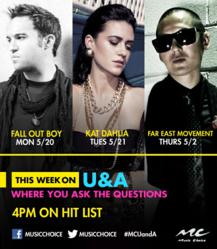 New York, NY (PRWEB) May 20, 2013
Music Choice will feature Fall Out Boy, Kat Dahlia and Far East Movement on its live show "U&A" this week. The show will air on MC's Hit List Music Channel at 4pm ET and feature the artists on each of these days:

Monday, May 20th @ 4pm ET - Fall Out Boy
Tuesday, May 21st @ 4pm ET - Kat Dahlia
Thursday, May 23rd @ 4pm ET - Far East Movement
"U &A" (You & the Artist) is a live thirty minute show where fans can chat directly with their favorite artists. Consumers can send in questions via social media handles including: Twitter @MusicChoice | Facebook: facebook.com/MusicChoice using the hashtag #MCUANDA.
Filmed on location at the MC studios in NYC, music fans can tune in to the MC Hit List Music Channel to see if the artists are talking to them while enjoying hand-picked playlist at the same time. For a more immersive experience, check out the live web stream via http://www.ustream.tv/MusicChoice.
For more information on Music Choice, log on to http://www.musicchoice.com.