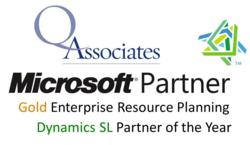 The Queue and Microsoft Dynamics Differentiator gives a very unique solution that supports solutions for both the Eastern & Western hemispheres
New York, NY (PRWEB) May 20, 2013
Queue Associates Inc., an international Microsoft Gold Certified Dynamics partner, will be hosting a live event for the Association for Project Managers on May 21st to discuss Microsoft Project & Accounting Solutions, in Hong Kong. With its most recently established Hong Kong location, Queue Associates, China, LTD plans to educate the international business community of Hong Kong on the many successful Microsoft Project solutions available.
Throughout its 21 years of business, Queue Associates has helped a numerous number of companies to manage their organizations and improve customer services through the Microsoft Dynamics project-based Enterprise Resource Planning solution. The APM (Association for Project Manager's) Hong Kong event will emphasize and demonstrate how Microsoft Dynamics, along with Microsoft Enterprise Project Management is a comprehensive business solution that integrates customers, projects, resources and financial management together with capabilities such as: accounting, job costing, time collection, billing, financial reporting, resource and budget data, labor costs and more.
To further assist international organizations in China, Queue Associates, China, LTD and Microsoft Dynamics have the capability to support Chinese Screen Translations, VAT and the Golden Tax Rule. "The Queue and Microsoft Dynamics Differentiator gives a very unique solution that supports solutions for both the Eastern & Western hemispheres" stated Jeff Goldstein, Managing Director, Queue Associates, China LTD.
Visit Queue Associate's website to learn more about Queue Associates Worldwide China Limited, and please register with the Association for Project Managers Hong Kong to attend the May 21st Association for Project Management & Accounting Solutions from Microsoft Hong Kong event.
About Queue Associates:
Queue Associates Inc. is a full-service information technology consulting firm whose primary focus is to provide Microsoft Dynamics solutions. These interconnected solutions include accounting, finance, project accounting, financial reporting, Internet-enabled enterprise resource planning (ERP), sales force automation and customer relationship management (CRM) systems. Queue provides a full range of services including installation, implementation and training, customization, and ongoing technical support to clients. Queue's uniquely thorough Business Process Review, conducted by CPAs and MBAs, ensures that recommended solutions meet clients' current and long-term requirements. Queue Associates maintains office in China, Hong Kong, New York City, New Jersey and the UK available to serve clients worldwide.
PRESS CONTACT
Christian Barbariantz
cbarbariantz(at)queueassoc(dot)com
212-269-1313