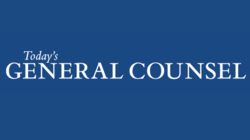 "I'm delighted to come aboard at Today's General Counsel during this transformational period within the legal and media industries," Lincoln states
Chicago, IL (PRWEB) May 20, 2013
Today's General Counsel announced the appointment of Stephen Lincoln as its new Chief Operating Officer effective immediately. Lincoln will oversee the continued expansion of the company's digital and print assets as well as its conference and custom product offerings.
A veteran legal media executive, Lincoln has significant experience transitioning legal brands from print to multiple platforms. Previously, Lincoln spent over fifteen years at ALM in a wide variety of publisher roles including working with such well-known brands as Corporate Counsel, The American Lawyer, the New York Law Journal and The National Law Journal. "Steve's wealth of experience and understanding of the evolving information and technology needs of the corporate counsel market makes him the ideal choice to head our operations." says Robert Nienhouse CEO of Nienhouse Media, Inc. and Editor in Chief of TGC. Mr. Nienhouse continues, "Steve embraces our mission of providing practical and strategic advice concerning legal and business trends impacting a business today and also down the road. He understands the need to provide trending news and information and will fully exploit our newly redesigned web and mobile platforms to keep TGC's growing audience informed about pressing issues impacting corporate legal departments globally."
"I'm delighted to come aboard at Today's General Counsel during this transformational period within the legal and media industries," Lincoln states. He continues, "It's clear that the strategic, best practice tested, and insightful content appearing within the magazine, website, daily newsletter and at the outstanding conferences is enormously valued by General Counsel in the US and internationally as well. Law firms, vendors and legal service providers are now being offered a suite of integrated marketing options from print advertising to digital newsletters to email blasts and co-branded emails as well as sponsorship opportunities at TGC conferences. The company provides a one stop shop for those interested in reaching General Counsel and their colleagues."
Lincoln lives in Stamford, CT with his wife and three sons and is looking forward to his new role in the organization and the continued rapid expansion of the company's product offerings. He will be traveling extensively throughout the year to keep abreast of the issues facing this global legal and business community and hopes to see former and new colleagues at the many conferences he plans to attend.
About Today's General Counsel
Today's General Counsel is the only award winning publication to address the information needs of all members of the C-Suite. The magazine's circulation continues to expand and reaches more in-house readers than any other legal publication. TodaysGeneralCounsel.com, the recently redesigned website, is updated daily to bring readers original content and a selection of news and features from publications and blogs worldwide. The customized marketing database product has over 275,000 unique names both In-House attorneys and those in private practice. Co-branded email's can be segmented by region, title, practice area, specialty and size. TGC's daily newsletter provides the corporate market strategic advice on trends that will impact their businesses. Today's General Counsel Institute - The educational arm of Today's General Counsel, is the premier provider of Interactive corporate e-Discovery programs, "The Exchange", colloquiums providing a deep understanding and practical advice regarding major e-discovery challenges facing organizations today.
For more information about Today's General Counsel Magazine or Today's General Counsel Institute please go to http://www.TodaysGeneralCounsel.com or http://www.TodaysGeneralCounsel.com/Institute or info(at)TodaysGC(dot)com.
###