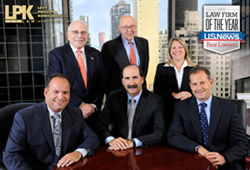 White Plains, NY (PRWEB) May 20, 2013
Headquartered in New York City, the national asbestos law firm of Levy Phillips & Konigsberg LLP ("LPK") has recently opened new offices at 50 Main Street in White Plains, New York. LPK will better serve people suffering from mesothelioma, lung cancer, and asbestosis in the Hudson Valley, including Westchester, Putnam, Rockland, Orange, and Dutchess counties. Mesothelioma lawyers at LPK have been helping families affected by asbestos-related diseases throughout New York, New Jersey, and around the country for nearly 30 years.
Westchester mesothelioma lawyers from LPK reside in the county and have represented members of the local community in personal injury and wrongful death lawsuits for decades. Law firm partners Robert I. Komitor and Audrey Perlman Raphael, both honored as "Best Lawyers in America" in mass tort litigation, have long and successful track records working with asbestos victims and their families in Westchester County. Mesothelioma attorney Brendan Tully was raised in Yorktown Heights and has represented families in Westchester County for many years.
According to LPK partner Audrey Perlman Raphael, many Westchester County residents were exposed to asbestos and other toxic carcinogens while working in the automotive, electrical, sheet metal, manufacturing, plumbing, railroad, and construction industries. "There are numerous worksites throughout the Hudson Valley where our friends and neighbors were exposed to asbestos and other carcinogens. It is very important to have a local office to better serve victims of asbestos exposure in this area," said Audrey Perlman Raphael. The attorney added that many workers in this area have been diagnosed with mesothelioma caused by asbestos exposure at such worksites as Indian Point Nuclear Power Plant in Buchanan, Tarrytown Chevrolet Manufacturing Plant, Refined Sugar and Syrup Factory in Yonkers, New York Central Railroad Terminal in Yonkers, Bowline Powerhouse in Haverstraw, Orange and Rockland Powerhouse in Tompkins Cove, Lovett Power Station in Tompkins Cove, Peekskill Powerhouse, Fleischmann Manufacturing in Peekskill, Danskammer Powerhouse in Newburgh, and Kay-Fries Chemical in Stony Point. As per Audrey Perlman Raphael, workers in the Hudson Valley were also exposed to asbestos-containing materials in many automotive repair shops and automobile dealerships. She further explained that some workers could have carried asbestos dust home on their clothing, exposing family members to the carcinogen, while many women and young children have also been exposed to asbestos during home renovations and from common household products and equipment.
LPK brings decades of experience and expertise to the Hudson Valley. U.S. News & World Report and Best Lawyers have recently named LPK the 2013 Law Firm of The Year in the field of plaintiff's product liability litigation. The firm's mesothelioma lawyers have won numerous landmark jury verdicts across the country, including in Westchester and Schenectady Counties.
Law firm partner Audrey Perlman Raphael's work in Westchester began in 1993 when she achieved an important victory in the United States Bankruptcy Court in White Plains. The case, Konefel v. Kaperonis*, culminated in an important decision holding that liability for intentional torts was not discharged in bankruptcy. LPK partner Jerome H. Block recently won a historic victory in the Southern District of New York**, White Plains Federal Court. Mr. Block's client, the widow of a former smoker who died of lung cancer, was awarded over a million dollars in damages against RJ Reynolds/American Tobacco.
Westchester mesothelioma lawyers at LPK are proud to have represented residents of the Hudson Valley, and LPK is eager to help others who suffer from asbestos-related diseases. For more information about the law firm, please contact Audrey Perlman Raphael at 1.914.937.3690 or at araphael (at) levylaw (dot) com.
*Konefel v. Kaperonis, 156 B.R. 736 (Bankr. S.D.N.Y. 1993);
**Eileen A. Clinton, on behalf of herself and as administratrix of the estate of William A. Champagne, Jr., vs. Brown & Williamson Holdings, Inc., as successor by merger to American Tobacco Company, and Philip Morris USA Inc., No. 05 Civ. 9907 (CS) (LMS) (S.D.N.Y).