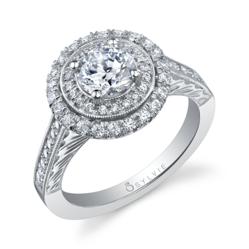 New York, NY (PRWEB) May 20, 2013
Bridal designer Sylvie Levine, who is renowned for making each ring in her vast collection customizable with any size, shape or cut center stone, is celebrating the summer wedding season by encouraging women to make their engagement rings even more meaningful by personalizing new and existing pieces. Sylvie is an expert in redesigning settings. As one of the bridal industry's only female designers, Sylvie provides a unique perspective which resonates with women. She carefully helps her clientele create ideal settings to best complement their lifestyles, skillfully incorporating their fashion preferences and even the shapes of their hands. Sylvie's ability to work directly with clients on every piece of jewelry has made her one of the most sought after designers in the areas of bridal jewelry and custom work.
According to Sylvie, the setting is the key in determining the look of a ring and how well the center stone is showcased. Born and raised in the diamond industry, Sylvie has acquired a lifetime of expertise, which she translates into her unique design sensibility. Taking rising costs and economic trends into account, Sylvie's special design tricks range from subtle tweaks to complete restyles. She renews semi-mounts with intimate details like changing side stone colors to a touch of rose gold melee or "peekaboo" diamonds hidden for only the wearer to see. Dramatic changes include surrounding center stones with halos of one, two or even three rows of diamonds or colored gemstones and resetting center stones horizontally (also known as an east-west setting). No transformation is impossible and Sylvie works with clients on almost any budget.
"I always encourage my clients to personalize each piece to reflect a special time in their lives," states designer Sylvie Levine. "I truly enjoy helping women create a timeless jewelry which will share their stories as it is passed on to future generations."
Sylvie Collection boasts more than 1,000 customizable styles of diamond engagement rings and wedding bands. Designer Sylvie Levine is committed to designing diamond jewelry that is timeless, versatile and sophisticated. Sylvie Collection uses the highest quality materials including: pristinely cut center stones, hand-carved milgrain, full-cut side stones, fancy-colored diamonds and sapphires as well as platinum,18K and 14K yellow, rose and white gold. Sylvie Collection is available at fine jewelers nationwide. For more information, visit http://www.SylvieCollection.com.
# # #