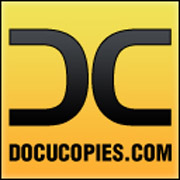 Docucopies strives to stay on top of the market pulse as far as what customers want and need from them.
San Luis Obispo, California (PRWEB) May 20, 2013
Hot off the One-Year Anniversary of their West Coast production facility, the online color printing company Docucopies.com marched on with confidence this month, expanding their product offering and integrating certain services into their website's order forms which weren't previously available.
Variable data printing (VDP) can now be selected right on the order forms for popular products like envelopes, carbonless forms, brochures, postcards and newsletters. VDP is used to personalize printed materials for individual recipients to include things like numbering, names, addresses, phone numbers, etc. This often goes along with bulk mailing, but the new upgrade to the order forms lets the customers see the cost of VDP with or without postage in case they plan to mail the pieces themselves, or for other materials which aren't meant to be mailed, like tickets, receipts, and order sheets.
Customers can now select to have multiple variations on single orders of postcards and business cards, where before each different one would have to be placed as a separate shopping cart item.
Legal sized booklets (8.5x7" finished size) are now available, and shrink wrapping is listed for a finishing option on the order forms.
Docucopies plans to add door hangers to their website in the coming weeks, as this has been a consistently popular request from customers.
"Requests for printed door hangers have been increasing lately," says Vice President and Marketing Director Jeff Corbo. "We know once they're available, they'll instantly become a 'fan favorite.' We don't want to keep people waiting any longer than necessary."
Docucopies strives to stay on top of the market pulse as far as what customers want and need from them, and this has been reflected in recent months by several additions to their product offering. Rack cards, greeting cards, bookmarks, notepads and wire-o binding are all examples of new products spurred by popular demand over the last year.
For more information on Docucopies.com and their digital color printing services, visit them online at http://www.Docucopies.com or call toll-free (877) 222-4842.