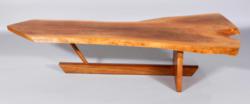 Beverly, MA (PRWEB) May 20, 2013
On June 9th, 2013 Kaminski Auctions will present their 20th Century Decorative Arts Auction. The sale will encompass many noteworthy lithographs, paintings, etchings, furniture, and glass pieces from artists and makers such as Andy Warhol, Orrefors, Chihuly, and Nakashima.
A beautifully carved walnut coffee table from George Nakashima is poised to be the top lot of the upcoming auction. The remarkable table was made as part of Nakashima's Conoid Collection and features a solid walnut plank supported on an angular leg and board. The dynamic linear contrast between the natural and finished edges gives the table a highly sculptural level of visual interest. Two polaroid photographs and hand drawn plans for the table add to the unique value of this Nakashima piece. The exquisite coffee table is predicted to fetch between $12,000 and $15,000 at the Sunday auction.
Among the most prominent of the prints included in the sale are three screenprints by Andy Warhol. The iconic artist's "Saint Apollonia" image will appear as Lot 1385, "Saint Apollonia FS II 331,"screenprinted on Essex Offset Kid Finish paper. Produced in 1984, the Saint Apollonia image is part of the artist's multiple print reinterpretations of Renaissance masterpieces. Here, as in his other Renaissance-focused works, the artist applies his bold color scheme to flatten and embolden the image, transforming a devout saint into a bold queen fit for the secular world. This striking image will be offered at $10,000 to $15,000.
Two screenprints from Warhol's "Flower" series will also appear in the auction. The graphic prints, both from 1974, represent the artist's renewed focus on the striking linear compositions possible with floral still lives. These two colorful examples of Andy Warhol's signature style are estimated at $2,000 to $4,000 each.
Prints from other important artists such as David Hockney, Peter Max, and Samuel Margolies will also appear in the sale. The Margolies print, "Man's Canyon's," captures a strikingly angular view of a New York street, and comes to Kaminski from a private collector. "Man's Canyon's" is estimated at $3,000 to $5,000.
Jane Peterson's gouache painting, "Two Toucans," is sure to garner much bidder interest. The Mid-Western artist held her first solo exhibition of her colorful and impressionistic paintings in Boston, and has since enjoyed much popularity in the area. Peterson's framed painting is predicted to sell for between $8,000 to $12,000.
Kaminski's upcoming auction will also present a new sculpture from popular contemporary artist Angel Chen. Chen's captivating paintings and sculptures have been exhibited in solo exhibitions around the world including Hong Kong, Paris, Los Angeles, Thailand, and Costa Rica. "Bronze Stiletto (Prada)" is a departure from her other, more ethereal works, and presents a bold take on the consumption of fashion so pervasive in the artist's native Los Angeles area. The "Bronze Stiletto," is offered at $4,000 to $6,000.
An important piece of ceramic sculpture from artist and craftsman Erik Gronberg will also be among the top lots of the sale. Gronberg's pieces are in the collections of many West Coast institutions, including the De Young Museum. The large footed bowl to be presented at Kaminski captures the artist's eclectic style and carries decals of cowboys, Indians, and other figures backed by swatches of saturated color. Gronberg's ceramic piece is estimated at $6,000 to $9,000.
The Twentieth century sale will also present a number of decorative pieces from well known Modern designers, including Kosta Boda, as well as a broad selection of Murano glass pieces. Of particular interest is a Sven Palmquist for Orrefors monumental handmade modernist bowl of blown blue glass. The bowl, signed Orrefors and Sven Palmquist on the base, is predicted to sell for between $1,500 to $2,500.
A monumental Venini chandelier in orange and clear glass will surely be a presence in the showroom and is estimated to sell for between $10,000 and $20,000. Also attracting much attention is a Dale Chihuly Macchia blown glass studio bowl, signed and dated 1983. The beautiful bowl is estimated at $2,000 to $3,000.
Preview for the 20th Century Decorative Arts Auction will run on Thursday, June 6th, from 10:00am to 5:00pm; Friday, June 7th, from 10:00am to 8:00pm, Saturday, June 8th, from 10:00am to 8:00pm, and Sunday, June 9th, beginning at 8:00am before the sale.
KAMINSKI
Kaminski Auctions, located on the North Shore of Boston, has been serving the New England antiques market for over 25 years as a full service auction house and appraisal service for fine art, antiques and estates.
With two locations in Beverly, Massachusetts, including a new state of the art auction gallery located at 117 Elliott Street, and a historic 1850's barn and office facility at 564 Cabot Street, Kaminski Auctions hosts 25 auctions a year.
In today's highly competitive market of fine art and antiques, Kaminski Auctions provides its customers with bicoastal services and marketing with west coast offices in Beverly Hills and San Diego, California.
Kaminski Auctions offers specialty departments in Asian Art and Antiques, Silver, Glass and Lamps, Couture and Vintage Clothing, Photography and Modern Design . We have highly trained and knowledgable appraisers on staff that will help you determine the true value of your antiques, or entire collections. Free Appraisal days are offered every Tuesday from 10:00am-4:30pm at our 564 Cabot Street location in Beverly, Massachusetts & by appointment at our 5171 Santa Fe Street location in San Diego, California. We welcome emailed photos of your items! Contact Harry Morgan - hmorgan@kaminskiauctions.com