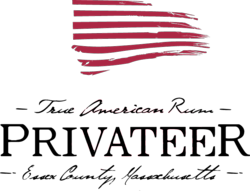 IPSWICH, MA (PRWEB) May 18, 2013
Two years after its successful launch in Massachusetts and Rhode Island, the boutique, hand-crafted distiller, Privateer Rum, is pleased to announce its expansion into three new major markets: New York, California and Colorado. The brand's presence at the 2013 Manhattan Cocktail Classic from May 17 to May 20 will serve as the venue for the official launch of Privateer in the great state of New York.
"This event is the perfect forum to launch our rums in Manhattan," says Vice President and Co-Founder, Nelse Clark. "It is filled with knowledgeable and enthusiastic Spirits industry professionals. It should be a lot of fun and we encourage everybody to visit us at the Andaz Hotel to try our rums and get to know our team."
The company currently has two award-winning rums: Privateer Silver Reserve and Privateer True American Amber. Wine Enthusiast Magazine named the Silver Reserve a "Top 50 Spirits of the Year 2012" and the highly regarded F. Paul Pacault, editor and publisher of the Spirit Journal, rated both spirits with four stars. The renowned regard for Privateer's rums has led to a growing demand for the products nationwide.
"Our expanded distribution marks the transition from local distillery to emerging brand, and can be directly attributed to the team's relentless focus on quality and adherence to highest distilling standards and practices," said Andrew Cabot, president and founder of Privateer.
Maggie Campbell, Privateer's head distiller explains, "The rum category is filled with examples that have been adulterated and/or rushed. Our goal is to create great American rums by applying fine spirits techniques, and to no longer dismiss the rum category from excellence. We ferment, distill, barrel and bottle every drop ourselves, and go to great lengths to honor both our spirit and customers. "
For further information on the company, please visit http://www.privateerrum.com.
###