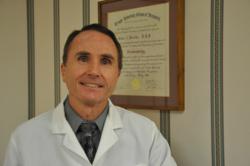 (PRWEB) May 17, 2013
Allen J. Schultz, D.D.S., is making the Laser Assisted New Attachment Procedure for gum disease treatment available to residents of San Juan Capistrano. The laser surgery disintegrates up to 90% of the diseased tissue rather than relying on a scalpel to cut the tissue away. The periodontist uses an FDA cleared laser that works on tightly defined wavelengths to target the diseased tissue and bacteria while leaving bone, teeth and healthy tissue intact.
Only about one in every hundred dental professionals is trained and authorized to use the LANAP gum disease treatment. The PerioLase MVP-7 laser used in the procedure has been cleared by the FDA for dental use. The procedure has been tested in the United States and abroad and has been shown to reduce the periodontal pocket depth and mitigate tooth loss.
Adults in the United States suffering from gum disease number in the millions. Many of those who have the disease may not even know it because early symptoms are often very subtle. Other patients may have issues with puffy and red gums that bleed quite easily. Some may experience extreme sensitivity to cold and hot liquids or foods. Advanced symptoms can include receding gums, loose teeth, and even bone loss or the loss of teeth. Gum disease has also been linked to issues such as stroke, heart failure, and diabetes, just to name a few.
Gum disease treatment by a periodontist is a critical step in the improvement of both oral health and overall physical health, but many people do not seek proper treatment because they fear traditional treatment methods that use a scalpel. With LANAP, the periodontist uses pulsed light from the PerioLase MVP-7 laser to selectively attack bacteria and dissolve infected gum tissue. Bio stimulation is used to aid in clotting and help the remaining healthy gum tissue attach to the roots of the teeth.
Those who undergo LANAP treatment generally experience minimized pain or discomfort and are often able to resume their activity levels by the next day, if not sooner. Those interested in more information about the procedure and the effects of periodontal disease can find it at http://www.sanclementeperiodontist.com.
Dr. Schultz is a periodontist offering patients personalized dental care for Southern Orange County, CA for over 25 years. He received his specialty certificate in periodontics from Temple University in Philadelphia, PA. He is a member of many periodontal and dental organizations and has written original articles for publications. Dr. Schultz is part of one percent of dental professionals providing the most recent FDA cleared laser procedure for gum disease and periodontal treatment (i.e. Lanap). To learn more about Allen J. Schultz, DDS and his dental services visit his website at http://www.sanclementeperiodontist.com.