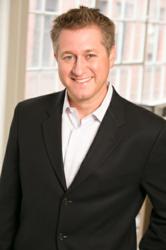 This is fantastic time to be at OpenDNS. The security market is ripe for disruption and OpenDNS is strategically positioned to capitalize.
San Francisco, CA (PRWEB) May 21, 2013
OpenDNS, the world's leading provider of cloud-delivered Web security services, today announced it has named Jeffrey Samuels as the company's first-ever Chief Marketing Officer. Samuels brings a proven track record in marketing, product and go-to-market excellence to OpenDNS's already-seasoned leadership team. In this role, Samuels will be responsible for expanding Umbrella, OpenDNS's disruptive line of cloud-delivered Web security services, and driving market adoption at a global level.
"OpenDNS has a critical opportunity to liberate network and IT professionals from the strains of security solutions that cannot effectively protect users wherever and however they work. To do it, we need to keep developing disruptive technology and break through the static and antiquated dialogue taking place on security today," said David Ulevitch, OpenDNS founder and CEO. "Jeff has the right experience developing winning marketing and product strategies and building world-class teams to scale OpenDNS's position as a global leader in Web security."
Samuels has spent the majority of his career in the Internet infrastructure and cloud arena. Prior to the OpenDNS appointment, he served as CMO at GoGrid, a leading Infrastructure-as-a-Service company. Under Samuels' leadership, GoGrid scaled cloud services and successfully repositioned itself from a regional hosting company to a dominant cloud player recognized by Gartner as one of the world's largest providers. Prior to GoGrid, Samuels was General Manager and Vice President at Neustar and GM and EVP at UltraDNS.
"This is fantastic time to be at OpenDNS. The security market is ripe for disruption and OpenDNS is strategically positioned to capitalize. Threats and attack vectors have proliferated, and become more sophisticated; at the same time, businesses have become more distributed and workers are increasingly mobile. OpenDNS has the technology, platform and people to take security and enterprise protection to the next level," said Samuels. "I am excited to build on OpenDNS's success as we shape an incredibly dynamic security market."
In the past year, OpenDNS has actively recruited and hired world-class executives to escalate the growth of its enterprise security business. Samuels joins other recent OpenDNS hires, CTO Dan (former CTO of Websense) and VP of Sales Marc Gemassmer (former SVP of Sales at Alteryx) on the leadership team.
OpenDNS recently announced that the company had recruited operational expert and former Juniper EVP Stefan Dyckerhoff to join its board, and that the company had raised a Series B round from Sutter Hill Ventures that would be used to accelerate the company's sales and marketing strategy and growth.
More about Jeff Samuels:
Prior to GoGrid, Samuels was General Manager and Vice President at Neustar where he was responsible for product success and achieving revenue targets in Neustar's Enterprise Services Group, one of the fastest growing business units in the company. Samuels came to Neustar through its acquisition of UltraDNS where he was GM and EVP of Marketing. At UltraDNS, he was charged with building, educating and selling the enterprise market on what can now be regarded as one of the first commercially successful cloud-based infrastructure solutions. As a key member of the UltraDNS executive team, Samuels drove the company from pre-launch to become the number one provider of Managed DNS and traffic management solutions to thousands of customers across multiple industry verticals.
Samuels earned a bachelor's degree from Columbia University. He currently is a key advisor and member of the leadership group of Parent Involvement Project (PIP) that fosters parental involvement in low-income San Francisco Bay Area school districts.
About OpenDNS
OpenDNS is the world's leading provider of Internet security and DNS services, enabling the world to connect to the Internet with confidence on any device, anywhere, anytime. OpenDNS provides millions of businesses, schools and households with a safer, faster and more intelligent Internet experience by protecting them from malicious Web threats and providing them control over how users navigate the Internet, while dramatically increasing the network's overall performance and reliability. The company's cloud-delivered Umbrella security products protect enterprise users from malware, botnets and phishing regardless of location or device. At the heart of all OpenDNS services is the OpenDNS Global Network, the world's largest Internet-wide security network, securing 50 million active users daily through 19 data centers worldwide. For more information, please visit: http://www.opendns.com.