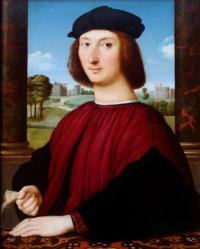 Together with Michelangelo and Leonardo da Vinci, he forms the traditional trinity of great masters of that period.
New York, NY (PRWEB) May 22, 2013
Raffaello Sanzio da Urbino, better known simply as Raphael, was an Italian painter and architect of the High Renaissance, celebrated for the perfection and grace of his paintings and drawings. Together with Michelangelo and Leonardo da Vinci, he forms the traditional trinity of great masters of that period. 
Raphael was one of the finest draftsmen in the history of Western art and used drawings extensively to plan his compositions. When beginning to plan a composition, he would lay out a large number of stock drawings of his on the floor and begin to draw "rapidly," borrowing figures from here and there. Over four hundred sheets of sketches survived altogether. He used different drawings to refine his poses and compositions, apparently to a greater extent than most other painters, judging by the number of variants that survived. 
Most Raphael drawings are rather precise—even initial sketches with naked outline figures are carefully drawn, and later working drawings often have a high degree of finish, with shading and sometimes highlights in white. They lack the freedom and energy of some of Leonardo's and Michelangelo's sketches, but are nearly always aesthetically very satisfying. He was one of the last artists to use metal point (literally a sharp pointed piece of silver or another metal) extensively, although he also made superb use of the freer medium of red or black chalk. In his final years, he was one of the first artists to use female models for preparatory drawings—male pupils (garzoni) were normally used for studies of both sexes.
The full version of Mighty Mack's Drawings: Raphael app features over 100 drawings by the great master Raphael. 
This app is available for iPod Touch, iPhone and iPad. Optimized for iOS6, retina display and iPhone 5. It allows the users to share images via email, Twitter and Facebook, or save them to camera roll (with no watermarks). Share the artist bio via email. Select favorites. View the images one by one, or enjoy a slideshow.
Enjoy this fantastic visual gallery, share the images with friends, and learn about the artist's life.
Updates Include:

Optimized for iOS 6.1.3
Updated User Interface
New Splash Page
App Requirements:

iPad, iPod Touch or iPhone, with iOS 5.0 or higher
WiFi connection to download the app
An internet connection for sharing images via email, Twitter or FB (no internet connection required to view the App content)
Click here to see the complete collection of Aramis Artists Apps released by Mighty Mack.
--
Mighty Mack is a leading publisher of distinguished digital products for the consumer and professional markets. The company leverages newly available digital tools to create, design, and share new ways of consuming information and experiencing the world around us. The company has released a variety of best-of-class Apps, including Advertising Today, Morpheus Dreams, Where2Boss?, Agora Briefcase, Film Today, among many others.
To learn more about Mighty Mack, please visit their website at http://www.mightymack.com or email them to press(at)mightymack(dot)com.