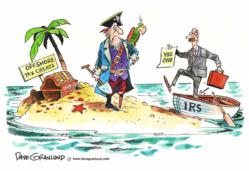 Direct Tax Relief has prevented criminal prosecution against taxpayers with as much as $15+ million of offshore assets.
Los Angeles, CA (PRWEB) May 20, 2013
The Offshore Voluntary Disclosure Program (OVDP) and Foreign Bank Account Report (FBAR) are IRS programs aimed to stop offshore tax evasion and bring taxpayers into compliance with federal tax laws. U.S. taxpayers who have undisclosed offshore accounts and/or assets are required to amend their tax returns and report their assets. Individual taxpayers as well as entities such as corporations, partnerships and trusts are eligible for the voluntary disclosure program, assuming all other eligibility requirements are met.
The IRS has collected $5.5 billion so far from people who participated in offshore voluntary disclosure programs since 2009. The IRS has aggressively increased their enforcement, criminal prosecution and implementation reporting through the Foreign Account Tax Compliance Act. The IRS also eliminated all loopholes that have been used by some taxpayers with offshore accounts.
For these reasons it is highly recommended to have a qualified OVDP Tax Attorney represent you in the voluntary disclosure program, in order to have a successful outcome. According to Expert Tax Attorney John Holland, "Our firm has prevented criminal prosecution against our clients who have over $15 million of offshore assets."
DTR tax firm has substantial foreign tax experience in this highly complex area which is now a major government focus. The firm has represented many clients since 2007 and now with the 2012 Offshore Voluntary Disclosure Program, DTR looks forward to explaining all of the taxpayers options, providing professional legal tax advice as to how to avoid criminal prosecution and legally minimize any payments to the government and make the best decision.
With new tax treaties being developed at an increasing rate, more countries will be cooperating with the US to go after tax evading U.S. citizens. The IRS announced that taxpayers' eligibility for the voluntary offshore programs could be terminated and denied once the IRS has taken legal action.
Call now for your FREE no obligation Consultation (877) 505-4829.