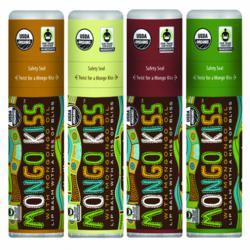 Mongo Kiss is a super hydrating, rejuvenating, and protecting organic lip balm made with Mongongo Nut Oil.
Cedar Rapids, IA (PRWEB) May 21, 2013
Eco Lips, America's premium organic lip balm company, introduces Mongo Kiss™, a super hydrating, rejuvenating, and protecting lip balm made with Mongongo Nut Oil, rich in nutrients like Vitamin E and essential fatty acids. Noted as "the lip balm with a kiss of bliss," Mongo Kiss is certified organic, fair trade certified, non-GMO, gluten-free and made with 100% renewable energy offsets. An added eco benefit includes a larger ¼ oz. tube made with a minimum of 40% post-consumer recycled material. The product is available in four top selling flavors: Peppermint, Pomegranate, Vanilla-Honey, and Unflavored with a retail price of only $1.99.
According to Steve Shriver, CEO of Eco Lips, "The Mongongo oil harvesting and processing is an important project for a women's collective in Zambia, Africa. The plant is sustainably grown and provides a much needed income for the community. This culture has used the oil for food and skin care for hundreds of years and is now sharing it with the world. The project has improved both self-worth and net-worth for the group." Beginning on May 20th, Eco Lips will be promoting "Mongo Kiss Mondays" on its Facebook page featuring an abundance of Mongo Kiss giveaways, facts about Mongongo Oil, the growers, and the harvesting process.
Sourced from a rural village in Zambia, Mongongo oil is excellent for the skin and lips. As a humectant, the oil helps the skin attract and retain moisture. The essential fatty acids and vitamin content create a flexible barrier that prevents and repairs damage to the skin. In addition, Mongongo provides natural UV protection. In Africa, the oil is used as a body rub by the bush men of the Kalahari to cleanse and moisturize the skin and protect it against the harsh desert environment.
Eco Lips manufactures the highest quality certified organic and fair trade lip care products on the planet. In addition, the company offers private label and contracting manufacturing services with a wide variety of options. Eco Lips initiated Iowa's largest solar power project which is powering the neighborhood in which Eco Lips is located. The company is a member of OTA , Green America and is a Certified B Corporation. Products are available online and at health food stores, grocery stores, pharmacies, outdoor stores and other fine retail outlets. Don't panic, it's organic! To learn more visit http://www.ecolips.com or call 866.326.5477. Visit Eco Lips on Facebook at http://www.facebook.com/ecolips.
###