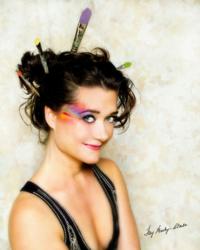 "I make things happen by creating events and strategic alliances with other intelligent, committed artists and musicians, filmmakers and creatives," says Firestone.
Seattle, WA (PRWEB) May 21, 2013
On May 1, 2013, Santa Fe portrait artist Robbi Firestone shared valuable how-to tips on Arts Entrepreneurship in a tel-seminar based in the Seattle University classroom at the Albers School of Business & Economics in Seattle, Washington.
During a recent call with young, creative entrepreneurs in Seattle, Robbi Firestone fielded questions from a bright mix of art students, Pacific Northwest Ballet dancers preparing for second careers, and call-in listeners. She was invited to share her experiences and wisdom by Sue Oliver, Executive Director of the Seattle University Innovation & Entrepreneurship Center at the Albers School of Business & Economics. Here are some of the highlights.
1. Go deeper into who you are and what lights you up.
When Firestone first started out as a portrait painter, she painted portraits that were traditional in nature. But instead of devoting every spare moment to portrait painting, she also took trans-denominational spiritual classes because she felt attracted to that aspect of self-development as well. Firestone had an epiphany: she should combine the art of portraiture with the spiritual realm, sharing her vision of the portrait subject's inner self as well as the outward self. This became the birth of her extraordinary and sought-after niche in the portrait art world: Spirit Capture Portraits, which combine a visual representation of the subject with a calligraphic representation of his or her spirit—on the canvas. "I married those two," said Firestone. "And now, that is what people come to me for." In a nutshell: keep connecting to what lights you up, because it may launch your primary passion into a new stratosphere.
2. Invest in yourself by "buying" creative time.
Many people think that they will hire house cleaners or bookkeepers when they get to a certain threshold of success. "I found myself spending an entire Saturday cleaning my house, and at the end of the day, my jaw was clenched." Why? An entire day of time and energy was squandered on mopping floors, dusting, laundry, and she would never get that time back. She also used to spend hours working on Quick books, trying to make numbers add up. "I'm inept at the math of business and it's the first thing I hired out." She did so way before her portrait artist business took off. Why? In order to get to where she is today, she had to literally buy herself the time to work creatively. In a nutshell: Think of it as being just as valuable as the money you might spend on a training course.
3. Be the director and producer of your success arc.
People often sit around wondering when the magical fate wand will wave, delivering big breaks, agents, gallerists, a clamoring audience. Not Firestone. "I make things happen by creating strategic alliances with other creative people." How? "I build events in the community. My current Spirit of Santa Fe project, a series of portraits of individuals who embody the spirit of Santa Fe, came from my desire to get to know the community and to connect with people here. And I designed it to include musicians, to create film (interviews of the subjects on their definitions of spirit, and what the spirit of Santa Fe is). This is a project that pulls people together and jazzes them up, serves the community, and contributes in some way…which brings press." In a nutshell: Get out of your cave, and design projects that create deserved buzz.
4. Create work/life balance—with your daily planner.
Firestone wakes up at 5 a.m and spends that early-morning time on business matters, and her spiritual practice. She plays in the middle of the day, doing things that feed her soul and charge her batteries. At 2 p.m., she goes into her studio and paints "until I'm finished painting," sometimes until 8 p.m. Although many of us have other "musts" that we have to do, it's crucial to make the creative, business, spiritual, and recreational elements as non-negotiable as doctors' appointments, chores, and time spent working at one's day job. In a nutshell: Your creative and entrepreneurial time is sacred. Make it real on your calendar.
5. Be yourself, and create from that place.
When Firestone visited Florence, the Italian city of Michelangelo and da Vinci, she walked into an artist's studio four blocks from Il Duomo. "I asked him, 'Your work is beautiful, but how do you have the courage to be 4 blocks away from Il Duomo? To put your work forward, in such close proximity to these masters?' He smiled and said, "I am an artist. I'm not Michelangelo, but I'm me, this is what I do, and I love it. I just sell what I create. Not everyone is going to love it, but I love it.' That was a major moment for me—the realization that I'm going to make what I make at the highest level of integrity, I'm not going to judge, and I'm just going to sell it, all the while doing my best to be an ever more masterful artist." In a nutshell: Just like in a race, focus on exceeding your own last best creation, not those of others.
Artist David Forlano, a graduate in painting was also invited to share insights with the young entrepreneurs. He and Steve Ford started their jewelry business in 1988 and have established international recognition in the field of American Craft. David is also involved in producing, editing and scoring for film. His love of music has run parallel with his involvement in visual arts.
Firestone's upcoming exhibition, The Spirit of Santa Fe, will debut at Casweck Galleries [http://www.casweckgalleries.com on August 9, 2013. In this exhibit, Firestone explores the city's strong magnetic pull by painting the portraits of quintessential Santa Feans. These individuals exemplify the City Different, from beloved community members to media personalities and a homeless youth. The subjects, from varying socioeconomic levels and backgrounds, represent Santa Fe's rich diversity.
#
CONTACT: Cecile Haut
TELEPHONE: (631) 708-6745
EMAIL: Cecile(at)robbifirestone(dot)com