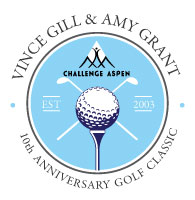 Aspen, CO (PRWEB) May 20, 2013
Vince Gill and Amy Grant will perform alongside music industry friends at the 10th Annual Vince Gill and Amy Grant Golf Classic and Gala on July 29th at the St. Regis Resort and tee off on the 30th at the Aspen Golf Club in Aspen, Colorado. The event will serve as the tenth annual gala and golf tournament for Vince Gill and Amy Grant. Proceeds from the gala, as well as the golf tournament, make it possible for Challenge Aspen to provide possibilities for people with disabilities through recreational, educational and cultural experiences.
The gala begins on Monday, July 29th, 2013 at 5.30pm at The St. Regis Resort in the heart of Aspen, Colorado. Guests will enjoy a cocktail reception and silent auction, intimate dinner, live auction and a concert with Vince, Amy and friends.
The golf tournament begins Tuesday, July 30th, 2013 at 8.30am at the Aspen Golf Club. Tee off with Vince, Amy, Professional Athletes and celebrities. The day includes breakfast, clinics, carts, lunches provided by local Aspen restaurants, hosted bar, VIP gifts, and an awards party.
Contact Catherine Rohrstaff at catherine(at)challengeaspen(dot)org or 970-923-0578 to purchase seats, golf spots or packages. Or go to http://www.challengeaspen.org. Prices vary.
ABOUT CHALLENGE ASPEN
Challenge Aspen is an organic outgrowth of the individually conceived dreams of co-founders, Houston Cowan and Amanda Boxtel. Houston Cowan became interested in teaching blind people to ski in 1991 as a volunteer guide and instructor. Amanda Boxtel's love of art and teaching children brought her to Aspen in 1988. While skiing in 1993 she took a tragic fall resulting in a broken back and leaving her paralyzed from the waist down. Houston and Amanda met one year after her fall and Challenge Aspen was born. Challenge Aspen now offers year-round recreational, educational and cultural experiences for people with cognitive or physical disabilities and includes a new program, CAMO (Challenge Aspen Military Opportunities), specifically serving ill or injured service members and veterans. Challenge Aspen continues its mission of making possibilities for people with disabilities.