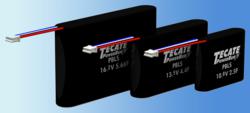 San Diego, CA (PRWEB) May 19, 2013
Tecate Group introduces the latest addition to the PowerBurst® line of ultracapacitors. The PBLS series of supercapacitor modules expands the lineup of TPL based modules to now include voltages ranging from 8.1 to 16.2VDV with capacitance values starting at 1.66F and with configurations up to 16.66F. Small diameter cells have been used in the design of these modules, providing a slim profile, which is a critical consideration in most applications.
These modules offer short term backup power in the event of primary power loss to fulfill safe shut down requirements, and can be used in conjunction with batteries. Examples include uninterruptible power supply (UPS) systems, low-voltage emergency lighting and board-mounted backup in solid state disk drives (SSD) used in enterprise computing systems. The Tecate modules can be sized for the life of the end product, which offers maintenance-free backup and disposal benefits vs. batteries.
In addition to providing backup power for applications like automatic meter readers (AMR), write cache protection in enterprise servers and last gasp power for networks, the Tecate PowerBurst® modules are also an excellent choice for battery powered tools and other handheld electronic devices that have a need for peak power handling. This extends the life of the batteries, and may even allow for the use of a smaller less expensive battery. This peak power handling is enabled by the very low ESR (equivalent series resistance) of the Tecate supercapacitors, allowing rapid power delivery and fast recharging. Other applications that the PBLS series are good for include automotive subsystems, medical devices, solar charged devices, and wireless transmission.
All cells used in the Tecate PBLS series are UL810A recognized and RoHS compliant. On-board passive balancing is included to ensure voltage equalization across the pack. A thermistor is also included in the module allowing for the internal temperature of the module to be monitored by external circuitry. Please see the PBLS datasheet for detailed specifications.
Prices for the PBLS modules range from $15.00 to $50.00, in 50 piece quantities. Prototype quantities are now available from stock and can be purchased from the Tecate Group website.
About Tecate Group
Headquartered in San Diego, CA, Tecate Group is a global leader in the design, sales, and distribution of capacitors, ultracapacitors, and supercapacitors. Tecate Group ultracapacitors and ultracapacitor assemblies offer a broad line of off the shelf and custom solutions for the most demanding applications. From design to production, Tecate offers industry leading service and expertise to quickly turn ideas into products. Founded in 1963, Tecate Group has long maintained its commitment to provide unparalleled levels of customer services and support, along with state-of-the-industry design and engineering resources.