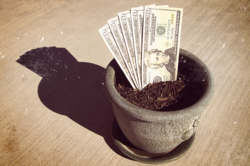 Rather than picking a percentage to save annually, based on what any number of financial experts recommend, determine your goal and work backwards.
EL SEGUNDO, CA (PRWEB) May 19, 2013
Americans have become more cautious with their money since the recession, seeking the help of personal finance experts to help them make the wisest choices. GoBankingRates provides a great resource with the recent launch of a Q&A series, through which readers can get professional answers to their pressing financial questions. Leading personal finance expert Casey Bond shares her insights on a variety of issues, including mortgages, debt, saving money and more.
The most recent question comes from a reader trying to get in the habit of saving: "I've never given much thought to saving money and have finally experienced a bit of a reality check. The problem is, I know I need to start saving, but I have no clue how much is considered 'normal.' Is there a percent of my income I should be saving every year?"
"Studies show people aren't saving enough," Ms. Bond points out. According to recent numbers from the Employee Benefit Research Institute, for instance, 57 percent of U.S. workers report having less than $25,000 in total household savings. The reader has already made an important step, Ms. Bond points out, by realizing the importance of saving money and taking action to do so.
"The answer to your question of how much you should save each year is not so simple, though. Many experts recommend saving 10 percent of your paycheck, while others advise more," Ms. Bond says.
"Unfortunately, this approach is much too simplistic. Thinking about savings in terms of a percent of income is a great start, but that exact number is going to depend on a variety of personal factors."
Factors that should be considered when setting up a plan for saving money include the saver's age, the amount already saved, and even what they plan to use the money for.
"Rather than picking a percentage to save annually, based on what any number of financial experts recommend, determine your goal and work backwards," Ms. Bond advises.
For questions about this report or to schedule an interview with a GoBankingRates editor, please use the contact information below.
About Casey Bond
Casey Bond has been a professional within the finance industry for close to a decade. Today, Ms. Bond regularly appears on a number of major national publications in addition to GoBankingRates, including Business Insider, US News & World Report, and The Huffington Post. She can also be found on Yahoo Finance!, Fox Business, and LearnVest, as well as in Redbook and Style. To receive her finance insights for young adults, sign up for her recently-launched newsletter "Cents in the City."
About GoBankingRates
GoBankingRates.com is a national website dedicated to connecting readers with the best interest rates on financial services nationwide, as well as informative personal finance content, news and tools. GoBankingRates collects interest rate information from more than 4,000 U.S. banks and credit unions, making it the only online rates aggregator with the ability to provide the most comprehensive and authentic local interest rate information.
Contact:
Jaime Catmull, Director of Public Relations
GoBankingRates.com
JaimeC(@)GoBankingRates(dot)com
310.297.9233 x261
###
Source: Employee Benefit Research Institute, "2013 Retirement Confidence Survey."