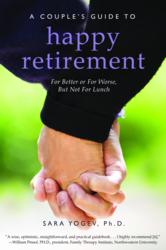 A wise, optimistic, straightforward, and practical guidebook . . . I highly recommend [it]." --William Pinsof, PH.D., president, Family Therapy Institute, Northwestern University
SANGER, CA (PRWEB) May 21, 2013
With late-life divorce on the rise, millions of Boomers who are retired and those entering retirement struggle with their marriage in what they thought would be the best years of their lives. A Couple's Guide to Happy Retirement: for Better or for Worse...but Not for Lunch (Familius, May 2013) by Sara Yogev, Ph.D., explores the psychology of marriage and retirement for men and women and provides counsel on aiding the readjustment process for retired married couples.
A Couple's Guide to Happy Retirement begins by exploring the Gray Divorce Phenomenon (divorce among those 50 years and older) and discusses the issues surrounding divorce among the Boomer Generation. Through relatable case studies and the latest information on the issues that impact the happiness and satisfaction of couples at this stage of their lives, the book:

Focuses on how to reduce the difficult post-retirement transition so the negative individual and marital impact will the minimal
Provides how to's on creating a plan that encompasses constructive use of time and purposefulness
Recommends strategies to handle differences around money, additional time together, housework, and extended family relationships.
". . . very helpful in providing a perspective on this phase of life." --James I. Ausman, MD, PhD, Executive Producer "The Leading Gen"
"A wise, optimistic, straightforward, and practical guidebook . . . I highly recommend [it]." --William Pinsof, PH.D., president, Family Therapy Institute, Northwestern University
With counsel from a psychologist and practicing therapist with more than 30 years of experience, A Couple's Guide to Happy Retirement provides well-researched information and thought-provoking exercises retired couples can use to ensure their golden years are spent happily together.
About the Author: Sara Yogev, Ph.D., is a psychologist providing individual and couples psychotherapy with offices in Chicago, Skokie and Evanston, Ill. For the past three decades, she has also conducted workshops, written, lectured, and been interviewed professionally about a wide range of work-family topics. A former Northwestern University faculty member, she has been featured as an expert in Newsweek, Time, Money, and USA Today.
About the Publisher: Familius is a transmedia publisher who publishes for marriage, parenting, family fun, education, health and wellness, and children. The Familius mission is to help families be happy. We connect families with the books, e-books, videos, articles, and apps they need to build successful marriages and families. Let's Talk Family.
Book Details:
Title: A Couple's Guide to Happy Retirement: for Better or for Worse...but Not for Lunch
Author: Sara Yogev, Ph.D.
Publisher: Familius
Publication: May 2013, $18.95
Internet Marketing, ISBN 978-1-938301-12-4
6 x 9 trade paperback, Kindle, Nook, Kobo, IPad, ePub, 256 pages, index
*Available from bookstores, online booksellers and http://www.familius.com
###