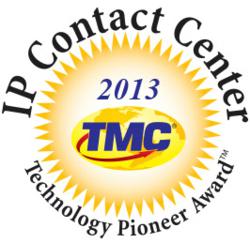 "We truly believe that OnGuard is redefining industry standards for managed services, and we're thrilled to be honored with this award."
- Eric LeBow, CEO, Spanlink
MINNEAPOLIS (PRWEB) May 20, 2013
Spanlink Communications, a leading Cisco contact center and customer collaboration solutions partner, announced today that CUSTOMER Magazine has awarded OnGuard, Spanlink's new support and managed services offering, with its 2013 IP Contact Center Technology Pioneer Award. The prestigious award honors companies that have produced innovative, "best-in-class" IP contact center solutions in the last 12 months.
Spanlink introduced OnGuard in February. OnGuard offers maintenance, proactive monitoring and managed services for Cisco collaboration and contact center solutions. It helps ensure that a customer's phone system, as well as other collaboration and communications devices that tie in to this system, stay up and running with minimal risk to the end customer.
"Technology is absolutely essential to managing a successful, efficient call center," said Rich Tehrani, CEO, TMC. "This award recognizes those companies that have truly advanced contact center technology in the last 12 months, thereby distinguishing themselves as industry leaders. TMC is pleased to honor Spanlink Communications with an IP Contact Center Technology Pioneer Award for bringing superior, groundbreaking technologies to market while providing high quality and advanced applications."
"Ensuring that our customer's communications solutions are up and running so that their customers can communicate with them is vital," said Spanlink CEO Eric LeBow. "OnGuard helps our customers protect their communications investment. We truly believe that OnGuard is redefining industry standards for managed services, and we're thrilled to be honored with this award."
Winners of the IP Contact Center Technology Pioneer Award will be published in the July 2013 issue of CUSTOMER magazine. CUSTOMER magazine, owned by TMC, is recognized as a leading publication in the CRM, call center and teleservices industries since 1982.
About Spanlink Communications:
Spanlink Communications is a leading provider of Cisco collaboration and contact center solutions. With 25 years' experience, Spanlink helps companies exploit the benefits of virtual unified communications networks for business transformation. Spanlink applies expert advising, deployment, integration and managed services to tailor each customer's solution and support plan to its business needs for transformational business improvements in productivity, efficiency and customer satisfaction. Spanlink is a Master-certified Cisco partner serving mid-size businesses and large enterprises. Find news and information at http://www.spanlink.com.
About CUSTOMER Magazine:
Since 1982, CUSTOMER magazine has been the voice of the call/contact center, CRM and teleservices industries. CUSTOMER has helped the industry germinate, grow, mature and prosper. CUSTOMER has served as the leading publication in helping the industries that have a positive impact on the world economy continue to thrive. Through a combination of outstanding and cutting-edge original editorial, industry voices, in-depth lab reviews and the recognition of the innovative leaders in management and technology through our highly valued awards, CUSTOMER strives to continue to be the publication that holds the quality bar high for the industry. CUSTOMER reaches 250,000 readers every month. Please visit http://www.customer.tmcnet.com.