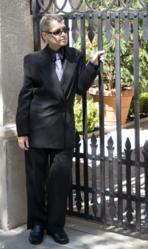 (PRWEB) May 20, 2013
Today the legendary Laura Antoniou will tackle the mystery of the popularity of 50 Shades of Grey, and the reverberating effects on erotic fiction. Antoniou will be interviewed by Judith Regan on this wildly popular topic, as well as on her new, genre-bending mystery, The Killer Wore Leather (newly available on audio produced by Susie Bright). They will be appearing in person at Barnes and Noble (Broadway) in New York, and on the Joy Behar: Say Anything! show at 9pm Eastern time.
Everyone knows that 50 Shades has exploded into an almost incomprehensible popularity, but nobody seems quite sure why. As expert insiders in the publishing world, Judith Regan and Laura Antoniou are the perfect women to speak to this phenomenon. Laura had captured the dynamics of BDSM long before 50 Shades of Grey had emerged, and both women contributed to 50 Writers on 50 Shades of Grey (Lori Perkins), a comprehensive examination of the world of 50 Shades. Laura and Judith have been on the cutting edge of writing, always a step ahead of the trends; join them and become an insider, too.
Her next stops incude
50 Shades of Fascinating
Monday, May 20th, 7pm
Barnes & Noble
2289 Broadway, New York, NY
May 19th
Long Island
MasT Long Island
May 30-June 2
Tampa, FL
Florida Bash