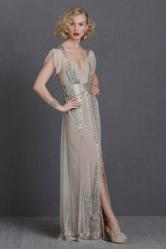 Invest in the show-stopping dress. This silhouette is timeless, and the Jazz Age embraced decadence.
Delray Beach, FL (PRWEB) May 22, 2013
How does an 88 year-old novel create a dramatic sensation in the wedding industry? "Impeccable taste and timeless style," says Aviva Samuels, founder of Kiss the Planner. Samuels, who recently staged a high-style wedding photo shoot inspired by F. Scott Fitzgerald's The Great Gatsby, says the Roaring Twenties presents an opportunity to bring couture back into a couple's special day.
From stunning dresses to headband "veils," private estates to crystal chandeliers and feather florals, Kiss the Planner, based in Delray Beach, Florida, knows what brides need for the perfect 1920s-themed wedding. As the recipient of honorable recognition "Trendsetter of the Year," Kiss the Planner is one of the foremost sources for wedding trends.
With the release of the film adaptation of The Great Gatsby this spring, brides are looking for inspiration. Samuels offers key tips to recreate this golden age for one's wedding.
The Decadent Dress: Women of the Roaring Twenties knew how to make a fashion statement. This season, designers such as Anna Sui, Pnina Tornai, Marchesa, and Jenny Packham are embracing the gorgeous silhouettes of the 1920s with floor-length silks, deco details, head-to-toe beads, jewels and plumes, head-banded veils and dramatic V-necklines. Brides can also find couture short sheaths that will allow them to dance the night away to a swing band ensemble. Finish the look with a highly-detailed headband for an authentic Gatsby style.
When planning a themed wedding, Samuels advises, "Have fun with this look. You can even request in your invitations that guests wear 1920s attire. The entire bridal party can easily be dressed in this style. But invest in the show-stopping dress. This silhouette is timeless, and the Jazz Age embraced decadence."
The Classic Estate: Find a venue worthy of Jay Gatsby's attendance. Imagine exchanging vows on the manicured lawn of a private estate, in a historic ballroom, or at the base of an ornate staircase. For high-class glamor, choose an estate or a historic hotel. The savvy Palm Beach wedding planner suggests several exquisite destinations in the area.
Samuels says, "We recently did a photo shoot at Vizcaya, which is gorgeous. A Gatsby-themed wedding deserves nothing but the most magnificent of venues."
She suggests destination wedding venues such as Vizcaya, The Cooper Estate, The Breakers Palm Beach, The Villa by Barton G. and the Mar-a-Lago Club.
The Luxurious Details: Letterpress invitations immediately set the tone for an unforgettable, elegant event. Try Art Deco furniture, and include drink rolling carts on the lawn. Have tables decorated with pearl necklaces, feathers and roses or orchids. Hang crystal chandeliers and offer crystal glassware. Have your bartender mix classic cocktails, and have a server pour a champagne tower. Set the music with a lively jazz trio or full band. Embroidered handkerchiefs with guests' initials make a romantic, one-of-a-kind favor they'll treasure for years.
Brides seeking more advice about 2013 wedding trends and couture wedding design can contact Aviva Samuels for brainstorming services, design-only consultations, partial or full-service event planning at: http://kisstheplanner.com.
About Aviva Samuels
Florida wedding planner Aviva Samuels of Kiss the Planner is available to speak with the media about wedding planning, destination weddings, wedding design trends, and more. The Palm Beach company offers an array of extraordinary wedding services, including destination event design, planning and coordination. For more information on Kiss the Planner or to contact Aviva Samuels, go to: http://kisstheplanner.com